Inleiding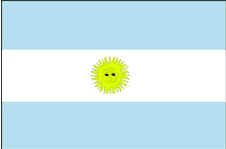 Argentinië is vooral bekend om de Tango, dat is een wereldberoemde dans, op speciale muziek. En natuurlijk is Argentinië óók bekend om Máxima. De tango is in de 19e eeuw ontstaan in de sloppenwijken van Argentinië. We laten jullie nu een stukje van een Tango horen. We doen er ook een dansje bij. We hebben ook een brief aan Maxima geschreven, om haar te vragen hoe ze het vond om in Argentinië te wonen. We hebben antwoord gekregen, maar helaas niet op onze vragen. Dit is de brief die we terugkregen.
Geografie
Argentinië ligt in Zuid-Amerika.Argentinië is ongeveer 66 keer groter dan Nederland. Het land is namelijk 2.780.000 km2 groot. Het heeft zowat 3 keer zoveel inwoners als in Nederland. Bijna 40 miljoen! 88% daarvan woont in de stad, de rest woont op het platteland.
Het grappige van de Argentijnse vlag is dat er een smily op staat.
De munteenheid is daar gekomen via de Spanjaarden, want die hadden Argentinië ontdekt. Daarom hebben ze daar de Peso. 1 Peso is ongeveer € 1 waard.
Door die Spanjaarden spreken ze daar ook veel Spaans, met toch een beetje een Engels accent. Ze hebben er ook nog vormen van Indianentalen.
De buurlanden van Argentinië zijn Chili, Uruguay, Paraguay, Brazilië en Bolivia. De hoogste en belangrijkste berg van Argentinië is de Aconcagua, maar de Bonete en de Pisis zijn ook heel hoog . De Aconcagua is 7000 meter hoog.
De belangrijkste rivieren, dat zijn de Paraná en de Colorado, stromen door een groot deel van Argentinië. De Parana is 4200 km lang en de Colorado is 900 km lang.
I.v.m. de godsdiensten kunnen ze er in Argentinië ook wat van: 91% is namelijk katholiek, 1% is joods en 8% is overig of niets.
Bekende gerechten van Argentinië
Ze hebben er de eerste klas rundvlees, daar maken ze 3 bekende gerechten van. Dat zijn Empanadas, lekkere gehaktpasteien en Noquis. Maar ook gewoon wat ze in de rest van Amerika eten. Zoals hamburgers en zo.
De belangrijkste feestdagen
Op 1 januari hebben ze net als wij Nieuwjaar,
Goede Vrijdag is altijd op een andere vrijdag in april ,
Op 1 mei dag van de arbeid, op 25 mei de eerste nationale regering in 1810.
20 juni Dia de la Bandera, dat is de sterfdag van generaal Manuel Belgrano, 9 juli, de Onafhankelijkheidsdag, 17 augustus, sterfdag van generaal Jose de San Martin,
12 oktober Dia de la Raza, dat is de ontdekking van Amerika, 25 december Kerstmis. Dit zijn alleen maar de belangrijkste. Deze feestdagen zijn vooral om dat de meeste mensen katholiek zijn.
Onderwijs
De kinderen moeten naar school als ze 6 zijn en mogen van school af als ze 14 zijn. Dan gaan ze net als wij verder op de middelbare school, de arme kinderen gaan vaak al werken. Er zijn 45 universiteiten in Argentinië. Buenos Aires heeft de grootste universiteit van Zuid-Amerika. Ze telt 140.000 studenten.
Belangrijke geschiedenis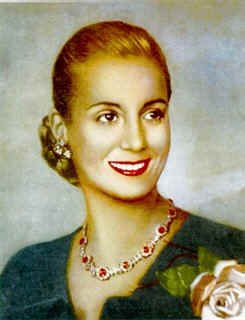 In 1580 is de stichting van Buenos Aires. In 1880 wordt Argentinië als bondsstaat opgezet met als hoofdstad Buenos Aires. Het land ontwikkelt zich doordat Europa er veel graan vandaan haalt. Argentinië werd daarom ook wel de 'graanschuur' van Europa genoemd. Van 1946 tot 1955 is de eerste regering-Perón. 1973 tot 1974 was de tweede regering-Perón. Perón was een belangrijke staatsleider. Hij is twee keer president geweest maar ook twee keer door de militairen weggejaagd. De tweede keer met het wegjagen is hij vermoord. Die Perón had ook een vrouw. Die is heel beroemd geworden, omdat ze als arm meisje met de president is getrouwd. Er is een liedje over haar gemaakt: Evita. Waarschijnlijk kennen jullie ouders dat liedje wel.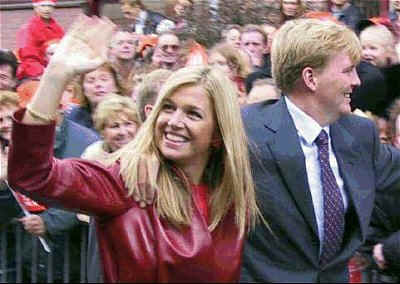 In een regering die later kwam, zat ook de vader van Máxima. Omdat veel mensen in Nederland die regering niet goed vonden – omdat ze mensen hebben laten vermoorden die het niet met die regering eens waren – mocht de vader van Maxima niet naar Nederland komen voor de bruiloft van zijn dochter. Nu heeft Argentinië een regering met als baas:
Het klimaat, de dieren en de planten
In het oosten van Argentinië waar Buenos Aires ligt is het vaak subtropisch. In de bergen vriest het. In de rest van het land is het vooral gewoon warm zoals in Spanje. Door dat meestal warme weer, groeien er veel sinaasappelen en druiven, die druiven zijn vooral voor de wijn. Er lopen in Argentinië ontzettend veel schapen en runderen rond. De schapen hebben Argentinië best een grote dienst bewezen. Het land was dan ook ooit 'schapenland' nummer 1. Dat betekent dat het de beste schapen had. Die runderen worden gebruikt voor het eerste klas rundvlees dat ze geven. Daar maken ze dus die gehaktgerechten van waar we het al eerder over hebben gehad. Wij kennen hier in Nederland vooral de Argentijnse biefstuk. Ook lopen er in Argentinië veel lama's rond. Verder hebben ze er veel boerderijen. In het hete droge noordwesten van Argentinië komen veel cactussoorten voor. Tropische regenwouden hebben ze niet hoewel ze die in Brazilië en Chili wel hebben. (groep runderen laten zien.) Argentinië grenst aan de Atlantische Oceaan. Natuurlijk leven daar ook dieren, zoals zeehonden, pinguïns en walvissen. Daar laten we nu wat platen van zien. We hebben ook een plaat van een poema.
Sporten
Als sport hebben ze in Argentinië vooral voetbal. Ze hebben ooit in de wereldcup gespeeld en daarmee hebben ze wraak genomen op de Groot-Brittanieërs waar ze ooit oorlog mee hadden. Ze hadden oorlog omdat ze allebei de eigenaar wilden worden van de Falkland-eilanden. Dat is een groep eilanden helemaal aan het eind van Zuid-Amerika. De eilanden zijn nu nog steeds van de Britten.
Toerisme
Als je naar Argentinië wilt reizen, zit je een behoorlijke tijd in het vliegtuig. Het land ligt dan ook aan de andere kant van de wereld. Je moet 15 uur vliegen als je vanuit Schiphol naar het vliegveld van Buenos Aires gaat. Als je er dan eindelijk bent, kun je in een van de gezellige hotels overnachten. Als je die volgende dag weer uitgerust bent, kun je ontzettend veel gaan doen. Zoals in een stoomtrein over een heel diep dal reizen of naar een van de mooie monumenten gaan. Daar hebben we nu wat platen van.
Rondreizen in Argentinië
In Argentinië kun je ook hele mooie rondreizen maken. Tijdens een Rondreis Argentinië zie je veel mooie dingen, zoals watervallen, gletsjers, paarden en mooie steden. Veel mensen maken een privé rondreis door Argentinië, maar je kunt ook deelnemen aan een groepsrondreis. Met een groepsrondreis Argentinië reis je dan met een gezellige groep door het land. Je zou ook kunnen overwegen om langer op reis te gaan en behalve Argentinië ook andere landen in Zuid-Amerika te bezoeken.
Dagbladen
In Argentinië worden elke dag 200 verschillende dagbladen uitgegeven. De meeste zijn in het Spaans, maar je vind ook heel wat kranten in het Engels, Frans en Duits.
De vragen
Wat zijn de belangrijke rivieren? Paraná+Colorado
Wat is de hoofdstad van Argentinië? Buenos Aires
Hoeveel is 1 Peso waard? €1 ongeveer
Hoeveel universiteiten heeft Argentinië? 45
Wanneer is Buenos Aires gesticht? 1850
Wanneer moet je naar school en wanneer eraf? 6\14
Wat zijn de buurlanden? Chili, Brazilië, Uruguy, Paraguy en Bolivia.
Maak jouw eigen website met

JouwWeb