Inleiding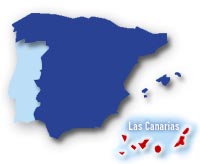 Ik houd mijn spreekbeurt over het eiland Gran Canaria. Ik ben er zelf al een aantal keren met mijn ouders geweest en ga er beslist nog eens naar toe
Canarische Eilanden
Gran Canaria is het op een na grootste eiland van de eilandengroep 'Canarische Eilanden'. Er zijn in totaal 7 eilanden en nog enkele hele kleine eilandjes. Gran Canaria ligt in de subtropen. Dat wil zeggen dat het er zowel in de zomer als in de winter lekker warm is. Op Gran Canaria wonen ongeveer 700.000 mensen.
Klimaat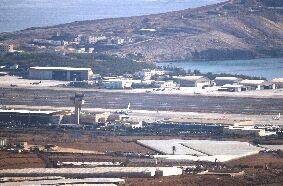 Wanneer je op de kaart kijkt, zou je zeggen dat Gran Canaria bij Afrika hoort maar het behoort tot Spanje.
Gran Canaria wordt door een bergketen in twee klimaatzones verdeeld. In het bovenste deel (het Noorden) is het vochtiger en dus is het er een stuk vruchtbaarder. Je kunt dit zien aan de vele bananenplantages langs de kust en ook het hele landschap is er een stuk mooier en groener dan in zuidelijke deel van het eiland.
Het zuiden is een stuk droger omdat er veel minder regen valt dan in het noorden. Het landschap ziet er daarom een stuk minder mooi uit. Wanneer je voor het eerst met het vliegtuig landt op Gran Canaria denk je; waar ben ik dan nu terecht gekomen? Gelukkig wordt er door middel van bewatering langs de wegen van alles aan gedaan om het een stuk groener en vriendelijker te maken in de drogere gebieden.
Omdat het echter zo weinig regent op Gran Canaria en het er het hele jaar heerlijk warm is, houden veel toeristen hun vakantie op Gran Canaria. Er komen er jaarlijks zo'n anderhalf miljoen! Deze toeristen zijn heel belangrijk voor de bevolking omdat ze hiermee hun inkomen verdienen.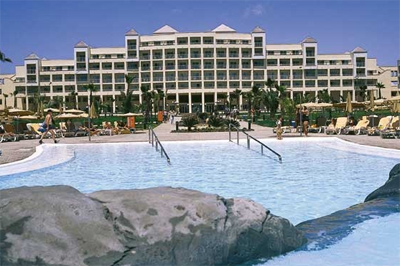 Hotel Gran Canaria
Wat te doen op Gran Canaria
Op Gran Canaria is echt voor iedereen iets te vinden.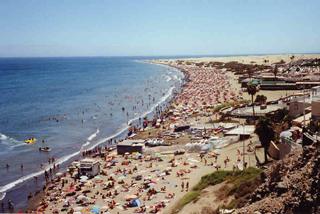 Voor de strandliefhebbers en zonaanbidders is het zuiden van het eiland een paradijs. In onze zomervakantietijd, juli en augustus, schijnt de zon er meer dan 10 uur per dag en het wordt er wel 35 graden. Ook de avonden zijn warm.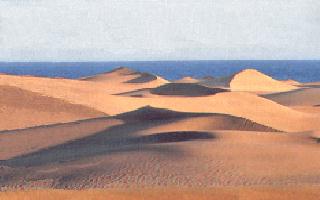 Er is het bekende zandstrand van Playa del Ingles (overigens het bekendste plaatje) en dan heb je de duinen van Maspalomas die lijken net een kleine woestijn. Je kunt er tegen de avond een mooie wandeling door de woestijn maken. Overdag is het veel te heet op het zand.
Verder is er langs het strand een lange boulevard met allemaal restaurantjes en winkeltjes.
Er zijn ook een hele boel shoppingcenters waar je wel een avondje om krijgt.
Voor wie van waterpret houdt, zijn er aan aantal waterpretparken met echt te gekke glijbanen en ander waterattracties. Ook is er een kleiner gewoon pretpark maar hier kun je in verband met de hitte ook beter in de avonduren naartoe gaan.
Dieren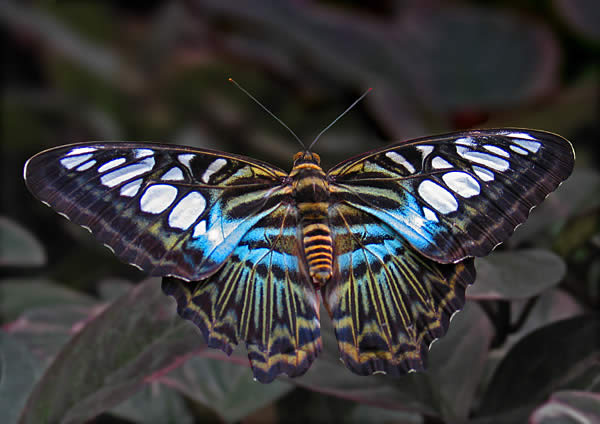 Ook heel erg leuk is het Palmitos Park met ongeveer 1500 verschillende vogelsoorten. Je hebt hier ook niet het gevoel dat het zielig is voor de vogels omdat het er allemaal erg natuurlijk uitziet en de vogels echt heel veel ruimte hebben. De mooie, bonte papegaaien doen superleuke kunstjes. Er is verder nog een heel groot vlinderhuis en een groot aquarium.
Uitstapjes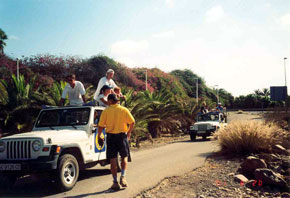 Op Gran Canaria kun je ook deelnemen aan georganiseerde uitstapjes met een gids. Wanneer je bijvoorbeeld meegaat met een jeepsafari zie je echt meer van het binnenland. Het is er tamelijk bergachtig. Er zijn zelfs nog mensen die in rotswoningen wonen. Er zijn stuwmeren en dorpjes die alleen te voet te bereiken zijn.
In het Noorden ligt de hoofdstad van Gran Canaria; Las Palmas. Je hebt er een mooi, oud centrum met gezellige gebouwen waarin winkels zijn die je ook hier bij ons kunt vinden. Er is een bekende kathedraal, de Santa Ana en ook is er een kerkje, de Sant Antonio, waar Columbus ging bidden voordat hij weer op een van zijn grote reizen ging. Voor de liefhebbers zijn er natuurlijk ook een aantal musea.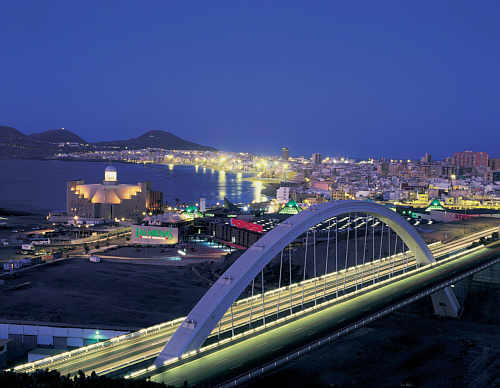 Er is ook een hele grote haven waar van alles en nog wat te zien is. Bij de haven is een supermodern winkelcentrum gebouwd. Je kunt op Gran Canaria dus ook heel actief zijn als je dat wilt.
Planten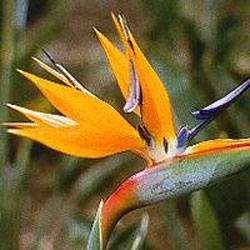 Op Gran Canaria heb je echt hele mooie bloemen en cactussen. Een van de bekendste bloemen is de Strilizia. Je kunt deze bloem overal kopen of er zaadjes van mee naar huis nemen. Maar of die het bij ons in Nederland ook zo goed doet?
Ik hoop dat jullie nu ook de smaak een beetje te pakken hebben gekregen en misschien ook een naar Gran Canaria toegaan….. of er misschien al eens zijn geweest?
Maak jouw eigen website met

JouwWeb