Inhoudsopgave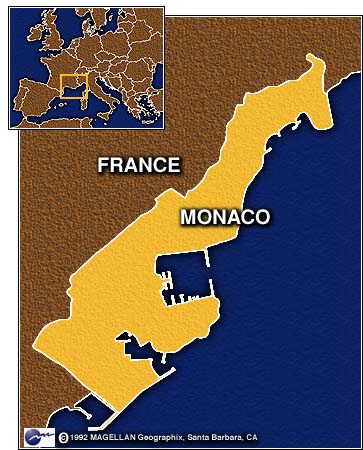 Hoofdstuk 1: De Geschiedenis
Hoofdstuk 2: Inwoners
Hoofdstuk 3: Hoe kun je er komen?
Hoofdstuk 4: Het Paleis
Hoofdstuk 5: Er is veel te zien
Bronnen
Hoofdstuk 1: De geschiedenis
Reeds in de prehistorische tijden met Le Rocher (De Rots), het schiereiland dat nu het district Monaco-Ville vormt, bewoond zijn geweest door mensen. Het bewijs daarvoor is geleverd door de vondst van menselijke overblijfselen in een gort in de Jardins Saint-Martin, nabij het Oceanografisch museum.
Er bestaan verschillende ideeën over de oorsprong van de naam " Monaco ''.
De naam Monaco komt van de Griekse naam voor geld, monikos, en werd gegeven in de 6e eeuw voor christus door de Phoceanen. Volgens een oude Mythe is Hercules in het gebied van Monaco geweest. De Phoceanen bouwden een tempel voor hem, de tempel van Hercules Monoikos (Móvoikos betekent één huis of één tempel. Het huidige Monaco begon als kolonie van Genua in 1228. Monaco wordt bestuurd door het huis van Grimaldi sinds 1297, toen François Grimaldi het fort, dat de beroemde steen van Monaco beschermde, veroverde vermomd als een Franciscaner monnik (Monaco in het Italiaans).
Tot aan de grondwet van 1911 waren de vorsten van Monaco absolute heersers. In juli 1918 werd een verdrag getekend dat Frankrijk bescherming gaf over Monaco. Dit verdrag, het onderdeel van het verdrag van Versailles, droeg ook op dat het Monaco en het Franse militaire politieke en economische beleid zou gaan volgen.
Monaco moet nog altijd rekening houden met de Franse belangen en bij belangrijke zaken overleg plegen met zijn grote buurman.
Vanaf 1949 werd de stadstaat door prins Rainier III uitgebouwd tot een groot " commercieel bedrijf ". Rainier III diversifieerde als manager de economie en maakte Monaco een van de rijkste en welvarendste landen ter wereld. Daarnaast verstevigde hij de banden met Frankrijk en vonden onder zijn bewind de belangrijkste landwinningen plaats, hetgeen geleid heeft tot uitbreiding van het grond gebied met zo'n 20 procent.
Monaco heeft zich, ondanks zijn geringe omvang, een plaatsje weten te veroveren op de wereldkaart.
Hoofdstuk 2: De Inwoners
Monaco telt bijna 30.000 inwoners. Dat is erg veel voor zo'n kleine oppervlakte. Lang niet alle inwoners hebben de nationaliteit van Monaco. Zo wonen er meer dan 12.000 Fransen en ruim 5.000 Italianen. En verder nog bijna 8.000 mensen die een andere nationaliteit hebben. Ook Nederlanders.
De echte staatsburgers van Monaco zijn Monegasken. Alleen zij hebben een paspoort van Monaco. Ongeveer 5.000 mensen hebben de Monegaskische nationaliteit. Dat er zoveel Fransen wonen, is gemakkelijk te begrijpen. Al eeuwenlang heeft Monaco al veel te maken met Frankrijk. Frans is dan ook de '' voertaal '' in Monaco. En ook het onderwijs is helemaal afgestemd op Frankrijk.
Er zijn 4 openbare basisscholen in Monaco. De kinderen leren daar precies hetzelfde als de kinderen in Frankrijk. Maar er komt nog iets extra's bij: de geschiedenis van Monaco en ook les in de eigen Monegaskische taal. Die taal heet '' U Monegascu ''. (Je spreekt het uit als: oe monegaskoe.) Deze taal komt van het Latijn en is vermengd met woorden uit het Frans en Italiaans. Echt veel wordt de taal niet meer gesproken. Er zijn wel gedichten, verhalen en boeken geschreven in het Monegaskisch. En voor het onderwijs in deze taal bestaan er echte leerboeken.
Hoofdstuk 3: Hoe kun je er komen
Het staatje Monaco bestaat in feite uit 2 plaatsen, Monaco en Monte Carlo.
Je kunt op verschillende manieren naar Monaco reizen. Wie met de auto reist, komt over de snelweg A8 of de Europese weg E80 langs de kust van Zuid-Frankrijk en neemt de afslag naar Monaco. Wie per vliegtuig wil reizen, vliegt naar de stad Nice. De afstand van Nice naar Monaco is 22 km. Vanaf het vliegveld kun je dan verder met de bus, een taxi of helikopter.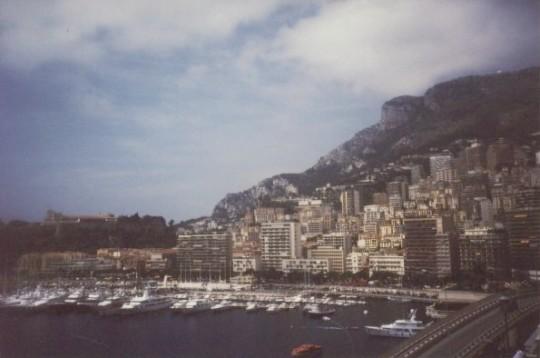 Je kunt ook met de trein. Het station van Monaco ligt aan de spoorlijn die langs de kust van Frankrijk naar Italië loopt. Een groot deel van deze spoorlijn is in Monaco " ondergronds ". In het ministaatje zijn 4 buslijnen die de voornaamste verbindingen onderhouden. Natuurlijk kun je ook gebruik maken van taxi's. Sommige straten zijn verboden voor autoverkeer. Dat geldt vooral in het oude deel van de stad. Er zijn meer dan 30 parkeerterreinen.
Autorijden in Monaco is niet zo gemakkelijk. Vooral in het oude stadsgedeelte zijn de straten erg smal. Omdat Monaco tegen de hellingen van de Franse Alpen is gebouwd, lopen de meeste straten ook schuin. Met name in het hoogst gelegen deel zijn de wegen erg steil.
Sommige straten hebben dan ook trappen in plaats van gewone trottoirs. Om van beneden aan de kust naar de bovenstad te gaan( of van de bovenstad naar beneden te gaan.) Kun je op 7 plaatsen met de lift gaan. Openbaar vervoer met de lift!
Hoofdstuk 4: Het Paleis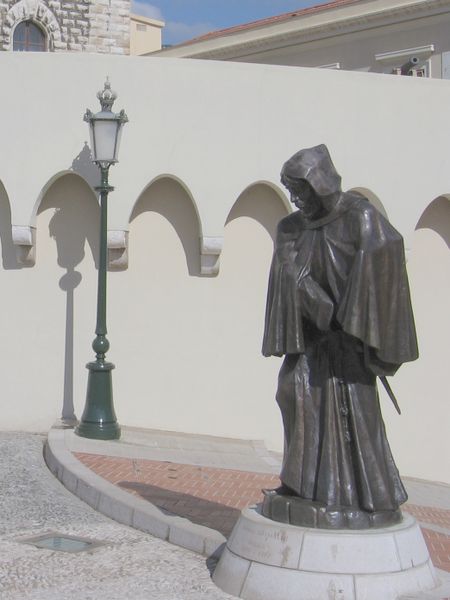 Monaco is een vorstendom. Dat betekent dat het een land is met een " vorst " als staatshoofd . (de huidige vorst is nu Prins Albert.)
In de 15e eeuw kwam de familie Grimaldi in het bezit van een Middeleeuws fort. Dit fort werd uitgebouwd tot een overweldigend complex van paleizen. Het prinselijk paleis is de persoonlijke residentie van het staatshoofd van Monaco en zijn familie. Het staat in de wijk Monaco-Ville.
Het staat hoog op een rotsachtig schiereiland. Iedere dag, precies om 5 minuten vóór 12, wordt heel plechtig de " erewacht " voor het paleis gewisseld. Voor toeristen is dit altijd een trekpleister. De erewacht draagt 's zomers hagelwitte uniformen . 'S winters is de erewacht in het zwart.
Monaco heeft een officieel wapenschild. Daarop staan 2 Franciscaanse monniken met zwaarden, die het wapen ondersteunen. Dat herinnert aan en gebeurtenis zo'n 700 jaar geleden. Leden van de familie Grimaldi hadden zich vermomd als monniken. Mar onder hun habijt hadden ze wapens verborgen. Zo konden ze het kasteel binnendringen en in handen krijgen. Sinds die tijd wordt Monaco geregeerd door deze familie.
Hoofdstuk 5: Er is veel te zien
Het Oceanografisch museum:

Beneden aan de kust ligt het wereldberoemde Oceanografisch museum. Het bestaat al sinds 1910. Je kunt er van alles zien dat te maken heeft met de planten- en dieren wereld in de oceanen. Tot in 1988 was de bekende diepzeeonderzoeker Jacques-Yves Cousteau directeur van dit museum. Hij is heel bekend door zijn prachtige tv-films over het leven onder water. In het museum zijn ook grote laboratoria. Hier wordt veel wetenschappelijk onderzoek gedaan naar alles wat in de oceanen leeft.
Bij het museum hoort een enorm aquarium. Hier kun je 90 verschillende bassins bekijken, waarin meer dan 4000 verschillende vissen leven, afkomstig uit de hele wereld.
Het casino
Ongeveer in het midden van Monaco staat het casino, zo'n 120 jaar geleden opgericht door prins Charles lll. Het is een deftig gebouw met grote speelzalen,
Waarin talloze bezoekers komen om te gokken. Die proberen veel geld te winnen.
Maar meestal lukt dat niet. Het gebeurt veel vaker dat ze verliezen.
In het casino kun je aan allerlei soorten gokspelen deelnemen. Bijvoorbeeld roulette en verschillende kaartspelen, zoals pokeren. Niet iedereen kan zomaar het casino binnen. Er wordt gecontroleerd of je ouder dan 18 jaar bent. Als dat zo is dan mag je naar binnen.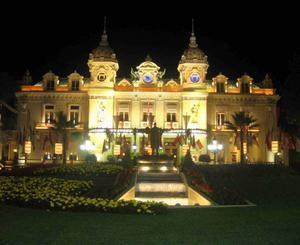 Het casino
De Exotische tuin
Een stukje hoger tegen de berghelling ligt de Exotische tuin. Het is een schitterend aangelegd park, waarin meer dan 7000 verschillende soorten planten groeien. De meeste planten komen uit andere landen. Vooral uit tropische gebieden. Het zijn bijna allemaal vetplanten en cactussoorten. Vanuit dit hooggelegen park heb je een prachtig uitzicht over Monaco en de Middellandse Zeekust.
Havens
Aan de kust van de Middellandse Zee zijn 2 havens. De oude haven en de nieuwe haven. Ze zijn niet echt groot. Ze liggen vol met zeilboten, schitterende jachten en andere pleziervaartuigen. In een van de havens vind je 2 bijzondere schepen. Het ene schip heet " Le Monte Carlo ". het is een " Catamaran ": een schip met 2 drijvers, evenwijdig aan elkaar. Er kunnen 200 passagiers tegelijk op. Het wordt gebruikt om met toeristen langs de kust van Monaco te varen. Het andere bijzondere is een onderzeeër met de naam: " Le Seabus ".
Uit die naam kun je al opmaken dat het een soort "onder-water-autobus " is.
De onderzeeër wordt óók gebruikt voor rondvaarten, maar dan onder water. 40 passagiers kunnen vanuit een doorzichtige romp een kijkje nemen onder de waterspiegel van de Middellandse Zee. " Le Seabus " is de eerste onderzeeër voor passagiers in de wereld.
Grand Prix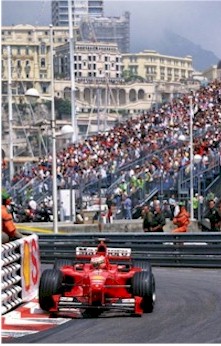 De maand januari is voor liefhebbers van autosport erg belangrijk. Dan is de Rally van Monte Carlo, die wordt al sinds 1911 gehouden. De finish is in Monte Carlo en het is voor heel Monaco een feestelijke gebeurtenis. En ieder jaar willen ook veel toeschouwers dit meemaken. Vanuit verschillende startplaatsen in Europa gaan de deelnemers op weg naar Monaco. Ze moeten zich precies aan de opgegeven route houden. Wie deze reis aflegt met het minste aantal strafpunten is dat jaar de winnaar van de Rally van Monte Carlo. Voor alle deelnemers zijn de afstanden gelijk. Het is een zware wedstrijd, die hogen eisen stelt aan de deelnemers en de auto's. Er moet bijna dag en nacht worden doorgereden. Soms over besneeuwde hellingen en bergpassen. En vaak onder slechte weersomstandigheden. Onderweg moeten allerlei speciale proeven worden gedaan.
Er zijn ook veel internationale evenementen. Er doen mensen uit dat land mee uit veel verschillede landen. Bijvoorbeeld het circusfestival, tenniswedstrijden, vuurwerkfestival en goochelshows.
Bronnen
Minilanden van Jaco Simons
N110 Monaco
Côte d'azur van ANWB actief reisgids
Ikzelf: foto's
Internet
Uit mijn hoofd
Maak jouw eigen website met

JouwWeb