Vulkanen
Hoofdstuk 1 : wat zijn vulkanen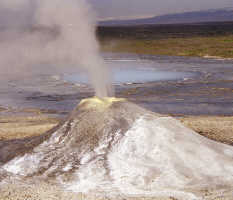 Vulkanen zien er vaak uit als flinke bergen. Soms stroomt er vuur of lava uit ,met veel wolkeneromheen . Op de top van de berg is een gat , de krater , en daar komt lava uit bij een uitbarsting . Dan is dat een werkende vulkaan. Maar vulkanen hoeven lang niet altijd mooie bergen te zijn . Ze kunnen er ook heel anders uitzien :als gewone scheuren in de grond of als ronde meertjes met helder water . Eigenlijk is een vulkaan alleen maar een gat of een scheur in de grond ,waar gloeiend vloeibaar gesteente en gas uitkomt . dit vloeibare gesteente heet de lava In de wolken die bij een vulkaanuitbarsting te zien zijn , zitten as en losse stenen die tot heel hoog in de lucht geschoten kunnen worden . Alle lava , as en stenen die uit een vulkaan komen liggen om het eigenlijke kratergat heen en stapelen steeds hoger op . Zo groeit na een tijd een echte berg omhoog . Vroeger deelde men vulkanen in drie soorten in : werkende vulkanen , slapende vulkanen en uitgebluste vulkanen .
Hoofdstuk 2 : wat komt er uit vulkanen ?
Als een vulkaan uitbarst , borrelt en vliegt er vanuit de krater alles omhoog : lava gloeiende stenen en gloeiende gassen .Na zo 'n uitbarsting zie je dat materiaal op verschillende plekken rond een vulkaan weer terug .Gloeiende stenen vliegen vanuit een krater omhoog en vallen meestal vlak bij de krater weer op de grond.Bij een goede vulkaanuitbarsting kan de lava wel 15 tot 18 kilometer de lucht ingeschoten worden .Weggestroomd materiaal kan lava zijn, maar ook as en kleinere steentjes. De lava stroomt van een vulkaanhelling en koelt af. Soms liggen ze er als gestolde rivieren bij, wel kilometers lang. As en kleinere steentjes vliegen bij een uitbarsting hoog de lucht in. Vulkaanas is erg vruchtbaar, daarom liggen er vaak vlak onder een vulkaan velden waar de boeren allerlei groenten / granen op verbouwen.
Hoofdstuk 3 : Hoe werkt nu een vulkaan ?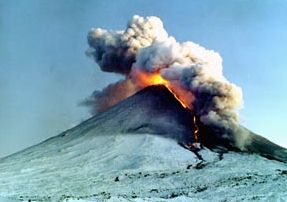 Bij een uitbarsting dringt de magma ( dit is vloeibaar gesteente)vanuit de aarde naar boven, dwars door de aardkorst heen. Doordat de aarde er nog op drukt word de kracht onder de grond erg groot, daardoor vermengt zich ook gas met de vloeibare magma .Op een moment is de kracht zo groot dat de aarde het niet meer houd en barst dan open. Dit noemen we een vulkaan uitbarsting. De magma (wat nu dan lava heet) ,de as en kleinere en grotere stenen worden met zeer grote kracht eigenlijk uit de aarde gespuugt. De lava loopt dan uit de vulkaan naar beneden en verbrand alles wat hij tegen het lijf loopt. Lava is eigenlijk gesmolten gesteente en dus zeer heet. Het verwoest huizen bomen alsof ze er niet staan. Soms kan zo'n uitbarsting wel weken duren en loopt de lava dus ver het land over.En is de schade door de vulkaan ook enorm groot.
Hoofdstuk 4: soorten vulkanen
Uit werkende vulkanen komt vaak nog lava en as omhoog .Deze zijn vaak al van verre te zien omdat er een grote rookwolk uit komt. Slapende vulkanen houden zich al jaren of soms wel eeuwenlang rustig. Deze vulkanen hebben in onze geschiedenis al eens of meerdere keren een uitbarsting gehad. Uitgebluste vulkanen hebben in de ons bekende geschiedenis nog geen uitbarsting gehad . Alleen aan de vorm van de berg en het materiaal om de berg weten we dat het een vulkaan is geweest. De meeste vulkanen liggen trouwens heel diep in de oceanen en zijn dan meestal plat en breed van vorm. De grootste nog werkende vulkaan ter wereld ligt in Ecuador (zuid Amerika ) Deze is maar liefst 5897 meter hoog.
Hoofdstuk 5: De bekendste uitbarsting:
De beroemdste uitbarsting aller tijden is waarschijnlijk de Vesuvius, bij Napels in Italië, in 79 na Christus.Toen de altijd zo rustige berg opeens begon te schudden. De bewoners van het stadje Pompeji werden volledig verrast. Urenlang regende hete as op het stadje neer ,tot de stad onder een meters dikke as laag bedolven was en er meer dan 2000 mensen om het leven kwamen. Deze vulkaan in Italië worden nog steeds veel bezocht door toeristen omdat er een schat aan spullen onder de lava ligt en nog steeds opgegraven word. Verder kan men daar naar boven op de top klimmen en in de nog dampende krater kijken.
Maak jouw eigen website met

JouwWeb