Deze spreekbeurt gaat over Nederland. Zo lees je in deze spreekbeurt hoe Nederland in elkaar zit en hoeveel mensen er wonen, welk klimaat er in Nederland is en wat de cultuur is van Nederland. Op deze manier kom je snel meer te weten over dit prachtige land.
Nederland: algemene informatie over het land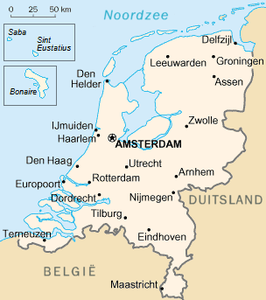 Nederland is een klein land dat in West-Europa ligt. De buurlanden zijn België en Duitsland en daarnaast ligt Nederland ook aan een grote zee, namelijk de Noordzee. Wat Nederland anders maakt dan andere landen, is dat het voor een vijfde deel bestaat uit water. De totale oppervlakte van Nederland is 40.000 vierkante kilometer, maar een vijfde deel van dit oppervlakte bestaat dus uit water. Dit is dan ook de reden dat Nederland veel dijken heeft, om het water tegen te houden en het mogelijk te maken om prettig hier te wonen. In totaal wonen er 16 miljoen mensen in Nederland. Deze mensen wonen in de twaalf provincies van Nederland, namelijk: Friesland, Flevoland, Groningen, Drenthe, Noord-Holland, Zuid-Holland, Gelderland, Overijssel, Utrecht, Noord-Brabant, Limburg en Zeeland. Amsterdam is de hoofdstad, maar Den Haag is ook een belangrijke stad. Den Haag wordt namelijk gezien als de bestuurlijke hoofdstad van Nederland. Dit komt omdat de Eerste en Tweede kamer in Den Haag zijn, waardoor Nederland dus eigenlijk vanuit deze stad bestuurd wordt.
Naast de Eerste kamer en de Tweede kamer, heeft ook de koning een belangrijke rol in Nederland. Dit komt omdat Nederland een monarchie is: oftewel een land met een koning of koningin aan het hoofd. De koning van Nederland is Koning Willem-Alexander, de opvolger van zijn moeder Beatrix. Willem-Alexander is getrouwd met Máxima, zij is de koningig. Koning Willem-Alexander heeft een belangrijke rol in Nederland, maar is niet de baas. De regels en wetten worden namelijk bedacht en doorgevoerd in Den Haag, door de Eerste en Tweede kamer.
Het klimaat in Nederland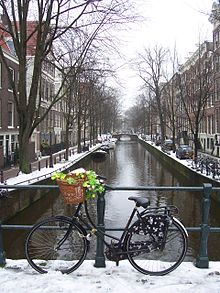 Het klimaat wordt een gematigd zeeklimaat genoemd. Kenmerken van dit klimaat zijn de harde wind en regen. In de zomer is het ongeveer 28 graden in Nederland en in de winter ligt het klimaat rond het vriespunt. Het klimaat is dus niet erg zonnig en exotisch, maar zeker ook niet erg koud of vervelend. De temperaturen zijn namelijk erg prettig en niet overdreven koud of warm.
De cultuur in Nederland
Ieder land heeft een eigen cultuur. Dit geldt ook voor Nederland. Het belangrijkste kenmerk van de Nederlandse cultuur is de vlag en de nationale kleur van Nederland, oranje. Ook het Wilhelmus, het volkslied, is een belangrijk kenmerk van de Nederlandse cultuur. Daarnaast heeft Nederland enkele belangrijke feestdagen, die ook zeker deel uitmaken van de cultuur van Nederland. Dit zijn de volgende feestdagen:
Koningendag
Bevrijdingsdag
Sinterklaas
Kerst
Hemelvaart
Pinksteren
Goede Vrijdag
Pasen
Oud en Nieuw
Daarnaast wordt in het zuiden van het land ook carnaval gevierd. Dit is een jaarlijks terugkomend festijn waarbij iedereen verkleed gaat gedurende een paar dagen.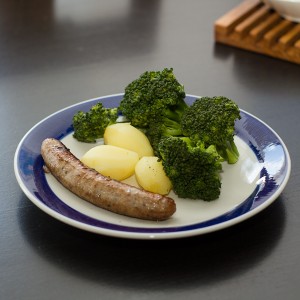 Naast de vlag, de nationale kleur, het volkslied en de feestdagen van Nederland, is ook het eten dat we iedere dag eten een belangrijk onderdeel van de Nederlandse cultuur. In Nederland geldt dat we meestal 's avonds warm eten. Vroeger at men vooral aardappelen, groenten en vlees, maar tegenwoordig kiezen steeds meer mensen voor ander eten om de maaltijden met aardappelen, groenten en vlees wat af te wisselen. Gerechten die erg populair zijn en typisch Nederlands genoemd kunnen worden, zijn boerenkool, andijvie, zuurkool en wortelstampot. In de ochtend en in de middag eten Nederlanders vooral boterhammen, bijvoorbeeld met kaas, pindakaas, hagelslag of vlees. Ander kenmerkend eten voor Nederland zijn de Limburgse vlaaien, de stroopwafels, de poffertjes, de pannenkoeken, de dropjes en de oliebollen.
Weetjes over Nederland
Wist je dat…
Nederland vroeger een stuk kleiner was? Vroeger was een groot deel van Nederland namelijk nog gewoon zee en kon hier niemand wonen. Flevoland bijvoorbeeld, bestond vroeger helemaal niet. Hier lag toen alleen nog maar water. Sinds de drooglegging van het water bij Flevoland is deze provincie pas ontstaan.
België en Luxemburg vroeger ook bij Nederland hoorden? In de periode van 1813 tot 1839 was Nederland dan ook een stuk groter dan nu, omdat deze twee landen toen ook bij Nederland hoorden.
Amsterdam niet altijd de hoofdstad is geweest? Pas vanad 1983 wordt deze stad officieel erkend als de hoofdstad van Nederland, maar daarvoor werd de stad ook al wel als hoofdstad gezien. Toen was het alleen nog niet officieel.
De Nederlandse vlag niet altijd rood, wit, blauw is geweest? Dit werd pas ingevoerd i 1937 door Koningin Wilhelmina. Voor die tijd werd de vlag al wel gebruikt, maar werden er ook andere vlaggen gebruikt, zoals een vlag met de kleuren oranje, wit en blauw.
Maak jouw eigen website met

JouwWeb