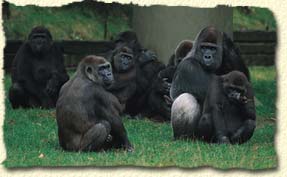 1-Orang-oetan
2-Gibbons
3-Handen en voeten
4-Bavianen
5-Zuid-Amerikaanse apen
6-Chimpansees
7-Apengeluiden
Orang-oetan
Orang-oetans zijn zeldzame maar ook schuwe apen die alleen voorkomen op Sumatra en Borneo.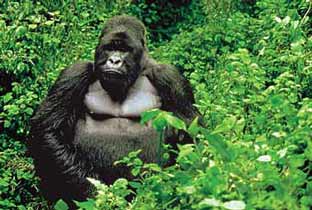 Ze hebben erg lange armen en als ze oud zijn worden ze erg zwaar. Meestal leven ze alleen of in paren met hun jong. De Orang-oetans bewonen dichte wouden en brengen haast hun hele leven in de bomen door. De Orang-oetan eet eigenlijk alleen maar vruchten, omdat dat hun voornaamste voedsel is.
Gibbons
Mensapen hebben geen staart en geen kale plekken op hun achterste, zoals die uit Azië en Afrika. Mensapen zijn groter en intelligenter dan de gewone apen. Tussen de mensapen en de gewone apen staan dieren die Gibbons worden genoemd. Gibbons zijn erg slim. Zij hebben geen staart, maar wel kale plekken op hun achterste. De armen van een Gibbon zijn wel twee keer zo lang als zijn lichaam. Ze leven in bomen in wildernissen van Zuid-Oost-Azië. Het zijn fantastische acrobaten en erg luidruchtige dieren.
Handen en Voeten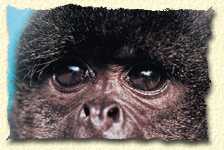 Apen gebruiken zowel hun handen als hun voeten om iets vast te pakken. De rug van de handen en voeten van de meeste apen is meestal bedekt met vacht. Sommige soorten apen hebben geen duimen. Deze apen gebruiken hun handen dan als haken.
Staarten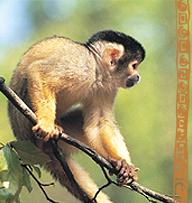 Alle apen gebruiken hun staart om in evenwicht te blijven, bijvoorbeeld tijdens een sprong. Dit is speciaal het geval bij apen die in bomen leven. Sommige apen van de Nieuwe Wereld kunnen iets vastpakken met hun staart. Zij hebben een grijpstaart met een kale plek aan het eind.
Bavianen
Grote troepen bavianen leven in Afrika tussen de rotsen of in de steppen. Bavianen eten wortels, insecten en honing. Bavianen zijn sterke apen met grote tanden. Ze roepen elkaar met een diep geblaf. Slechts weinig dieren durven deze apen aan te vallen. Er zijn ook heilige bavianen dat betekent als apebaby's op de rug van hun moeder worden gedragen.
Zuid-Amerikaanse apen
Zuid-Amerikaanse apen lijken veel op die uit Azië en Afrika. Ze zijn er niet echt aan verbonden, want ze verschillen op allerlei manieren. Deze apen hebben geen kale plekken op hun zitvlak. Ook hebben ze geen wangzakken zoals de apen van de Oude Wereld. Je hebt ook verschillende Amerikaanse apen zoals de Saki de Titi of de Spinaap dit zijn nog maar voorbeelden, want er zijn er nog veel meer. De spinaap is een van de apen die iets met de staart kan vast pakken.

Primaten
Apen horen tot dezelfde diergroep als de mens. Deze groep noemt men primaten. Primaten betekent ' opperdieren '. Het spookdiertje hoort ook bij de primaten. Een spookdiertje is net zo groot als een rat en komt uit Azië. De Zuid-Amerikaanse Indiaan is ook een primaat. Primaten hebben betere hersens als die van andere dieren. Ook hebben zij geleerd hun handen te gebruiken. Primaten kunnen goed zien, maar ook goed afstanden schatten. Er zijn veel primaten bijvoorbeeld: de Lemuren of de Maki's zij leven op Madagaskar of de Kapucijaap uit Zuid-Amerika.
Chimpansees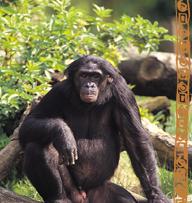 Chimpansees leven in de tropische bossen van Afrika. Zij zijn kleiner, luidruchtiger, beweeglijker en sneller opgewonden dan gorilla's. Ze leven gewoonlijk in gemengde groepen van niet meer dan twintig. Chimpansees hebben evenals de andere mensapen geen staart. Gewoonlijk lopen ze op handen en voeten, maar ze kunnen net als de andere apen rechtop lopen. De chimpansees zijn erg goed in klimmen en snel in lopen. Van alle apen zijn de chimpansees het intelligentst. Als ze volwassen zijn worden ze vaak woest en vernielzuchtig. Zoals alle apen zijn ze niet geschikt als huisdier. Chimpansees eten hoofdzakelijk vruchten, bessen en termieten (insecten). Soms doden ze andere dieren, ook wel apen en eten ze op. Elke nacht opnieuw maken ze binnen vijf minuten een nest om in te slapen.
Apengeluiden.
De meeste apen leven in groepen. Een groep leeft in een deel van een bos of een jungle (wildernis). Dat is hun territorium. In dit territorium is hun voedsel en staan bomen waarin zij leven. Apen gebruiken hun stem om hun territorium te verdedigen. Met hun geschreeuw houden ze contact met hun groep. Sommige blaffen als honden of tjilpen als vogels, andere maken een toeterend geluid. Brulapen die komen voor in de tropische wouden van Zuid-Amerika. Zij kunnen met hun stem huilen of brullen als een leeuw. Dat geluid is vaak op kilometers afstand nog te horen. Je hebt bijvoorbeeld de rode brulaap en de zwarte brulaap.
(met dank aan de Apenheul voor het gebruik van een aantal foto's. Wil je meer informatie over apen, bezoek danwww.apenheul.nl )

Dit was mijn spreekbeurt
Maak jouw eigen website met JouwWeb