DOLFIJNEN

Mijn spreekbeurt gaat over de dolfijnen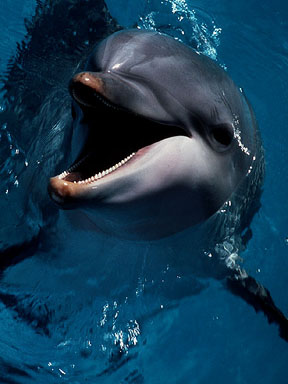 Uiterlijk
Dolfijnen zijn zoogdieren. Ze horen tot de groep Tandwalvissen. Dolfijnen hebben zich in hoge mate aan de zee aangepast en bezitten daardoor vele eigenschappen die hen van andere dieren onderscheiden. Zowel de grote als de kleine soorten hebben de vorm van een uitgerekte torpedo, geheel gestroomlijnd vanaf het topje van de neus tot aan de slanke, ankervormige staart. Ondanks hun omvang bewegen ze zich gemakkelijk door het water. Hun staart golft in een rustige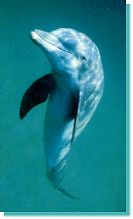 beweging op en neer en drijft hen zo voort met nauwelijks enige turbulentie in het water of verspilling van kracht. Dolfijnen
halen 30 kilometer per uur. Dolfijnen dragen hun neusgaten boven op hun hoofd. Ze ademen uit door te spuiten', als ze aan de oppervlakte komen en ademen in voordat ze weer onderduiken. Dolfijnen brengen daarom het grootste deel van hun leven door aan het wateroppervlak of in de buurt daarvan. Alle Tandwalvissen zien en horen goed en hebben een zachte en gevoelige huid die rimpelt als ze door het water zwemmen, waardoor de wrijving verminderd. De meeste zijn volledig onbehaard, hun onderhuids vet 'blubber' zorgt voor de isolatie. Geluiden en gehoor De geluiden die Dolfijnen onder water voortbrengen zijn velerlei: kwetteren, kraken, knarsen en fluiten. Deze ultrasone geluiden worden gebruikt voor echopeilingen, want de dieren beschikken ook over een zeer gevoelig gehoororgaan, dat tonen met een frequentie tot 200.000 Hz (trillingen per seconde) kan waarnemen. Bij de mens ligt deze bovenste gehoorgrens bij 20 000 HZ. In gevangenschap kunnen Dolfijnen ook geluiden in de lucht voortbrengen, zoals klikken, fluiten en blazen. Dat er een dolfijnentaal bestaat is zeker niet uitgesloten. Wat opvalt is dat Dolfijnen met hun echo peiling of sonar ook geregeld elkaars lichaam aftasten. Feilloos voelen ze elke stemming, elk gevoel en elk ongemak aan en ze reageren daarop.

Wordt donateur van het WNF!!!

Voortplanting
Dolfijnen zijn polygaam. Ze zoeken ieder paartijd een ander partner. Toch zijn de familiebanden zeer sterk, en de dieren helpen elkaar als er moeilijkheden zijn, vooral tijdens de voortplantingstijd. Tien maanden na de paring wordt één jong geboren; eerst komt de staart en vervolgens de rest. Direct na de geboorte leidt de moeder haar jong naar de oppervlakte om adem te halen; enkele 'tantes' beschermen het intussen tegen haaien die aangelokt kunnen zijn doordat bij bij de geboorte bloed in zee is gekomen. De moeder zoogt het jong onder water. De twee tepels die in een huidplooi zijdeling van de geslachtsopening liggen, komen naar buiten en spuiten melk in de bek van het jong dat zelf niet kan zuigen. Het jong is direkt een snelle zwemmer maar blijft de eerst weken nog dicht bij zijn moeder en 'tantes'.
Gevangenschap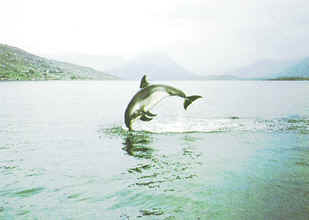 Vrije Dolfijnen verschillen in hoge mate van Dolfijnen in gevangenschap. Dolfijnen horen vrij te zijn! Gevangen dieren zijn door hun vrijheidsbeknotting gehandicapt en sommige kunnen daardoor agressief worden, vooral wanneer ze verkeerde mensen tegenover zich krijgen. Toch lijken Dolfijnen zich 'welwillend' neer te leggen bij een leven in gevangschap, omdat de dieren in de vrij zee vaak een nog erger lot beschoren is, gezien de bereidwilligheid van het mensdom om het zeemilieu en de dieren die er in leven te vernietigen.
Tandwalvissen
Binnen de orde van de Cetacea (Walvissen) zijn er twee zeer verschillende groepen walvissen: Mysticeten, Balei- of Baardwalvissen, Odontoceten, Tandwalvissen.
Van de Tandwalvissen zijn de Potvissen en Orka's het grootste en er bestaan nog vele andere soorten in afnemende grote tot aan de kleinste Dolfijnen, die korter dan twee meter zijn. Tandwalvissen hebben hun tanden vaak in zonderlinge formaties: alleen in de onderkaak bij potvissen, slechts een paar bij de butskoppen en diep in het tandvlees ingebed, waarschijnlijk zonder functie, bij sommige vrouwtjes. Orka's hebben een formidabele dubbele rij tanden, geschikt om elke
willekeurige prooi te grijpen en uiteen te scheuren. Dolfijnen en bruinvissen hebben kleine, dolkachtige tanden die geschikt zijn om glibberige vissen te vangen en vast te houden.
Oorsprong
Samen met de vleesetende zoogdieren stammen de tandwalvissen af van een een zoogdier dat meer dan 50 miljoen jaar in het Eoceen leefde. Terwijl de vleeseters zich voornamelijk op het land ontwikkelden, kozen de voorouders van de dolfijn voor het water en pasten zich geheel aan het bestaan onder water aan. Tijdens deze ontwikkeling werden de
staartbeentjes aangepast voor de voortbeweging, verdwenen de achterpoten en werden de voorpoten veranderd in evenwichts- en stuurvinnen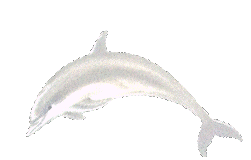 Maak jouw eigen website met JouwWeb