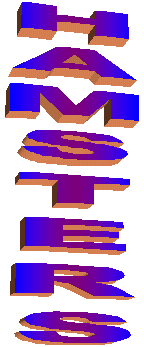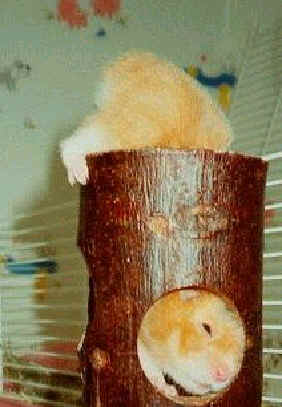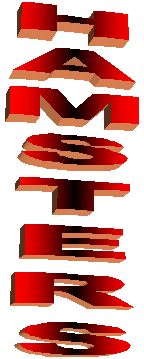 GEMAAKT DOOR TOM VERSTEEGE
---
Inhoud
De hoofdstukken in mijn werkstuk zijn:
Ø 1. Wat is een hamster?
Ø 2. Hoe verzorg je een hamster?
Ø 3. Kleine hamsters, Russische Dwerghamsters.
Ø 4. Hamsters fokken.
Ø 5. Ziektes en ongemakken.
De bronnen in mijn werkstuk zijn:
Ø 1. Hamsters handboek door Lucky Friends Parent.
Ø 2. Informatie Junior: De Goudhamster.
Ø 3. Internet: www.garcia.demon.nl/hamsters.
Ik hoop dat je mijn werkstuk over hamsters leuk vindt, dus veel leesplezier!
---


1. Wat is een hamster?
Een hamster is een klein op een muis lijkend diertje. Hij is ongeveer twaalf cm. lang. Het zijn knaagdieren. Ze kunnen verschillende kleuren vacht hebben.De vacht van een hamster is zo zacht als fluweel. Je hebt ook hamsters met een helemaal witte vacht. Die hebben ook rode ogen. Dat zijn albino hamsters. De andere hamsters hebben zwarte of donkerblauwe ogen. Hamsters hebben in tegenstelling van een muis een korte, roze staart. Hamsters hebben ook snorharen. Daarmee voelen ze aan dingen als het donker is. Daardoor weten ze wat het is. Mannetjes hebben een lang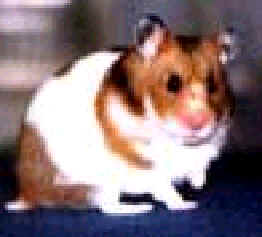 achterwerk. Het is grappig om te zien hoe ze ermee waggelen. Vrouwtjes hebben een kort achter werk. Dit is dus de manier om mannetjes en vrouwtjes te onderscheiden! Ook een manier is dat de poep en plasgaatjes bij een mannetje verder van elkaar staan dan bij een vrouwtje. Een hamster heeft scherpe nageltjes. Als je er aan gewend bent voel je er niks meer van als hij over je blote arm loopt. Door zijn nageltjes klimt hij zo via je trui naar boven. Voor dat je het weet zit hij op je schouder! Een hamster is niet duur. Hijzelf niet en zijn eten niet. Het enige dat hij nodig heeft is: een hok, eten, water, soms een snoepje en natuurlijk jouw aandacht! Als je je hamster goed verzorgt dan heb je je beste vriend gevonden! En dan nog een omschrijving van mijn hamster. Hij heet Speedy en hij heeft een crème- kleurige vacht. Hij heeft zwarte ogen.
---
2. Hoe verzorg je een hamster?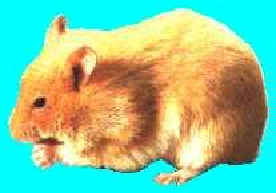 Je moet hem om de dag water geven. En elke dag eten. De hamster loopt dan naar zijn etensbakje. Als hij erge honger heeft dan eet hij het meteen op. Niet alles natuurlijk. Het grootste deel van het voedsel stopt hij in zijn wangzakken. Dat zijn een soort voedseltasjes in zijn wangen. Hij heeft er twee van. Als ze vol zitten kruipt hij in zijn nest. Als de hamster in zijn nest zit dan wrijft hij over zijn wangen. Dan floept het voedsel uit zijn wangzakken. Het voedsel slaat hij op in zijn nest. Het is grappig om een hamster te zien eten. Hij gaat dan op zijn achterpoten zitten met het eten in zijn pootjes. Dan gaat hij lekker zitten knabbelen. Als hij klaar is dan veegt hij de kruimels van zijn snoetje. Dan maakt hij zijn pootjes nat en gaat zichzelf zitten wassen. Jij moet hem dus niet wassen. Maar nu dwalen we een beetje af. Laten we terug gaan naar het verzorgen van een hamster. Hoe je een hok schoonmaakt bijvoorbeeld. Je pakt twee kranten en wat zaagsel. Allereerst stop je je hamster in een andere kooi. Dan pak je het nest, de speeltjes, het etensbakje, het waterflesje en het nog schone zaagsel op en leg je het op één van de kranten. Het vieze zaagsel leg je op de andere krant. Die gooi je weg. Dan maak je de kooi met een sponsje en water schoon. Nooit met schoonmaakmiddel of met zeep want dat is giftig voor je hamster. Dan doe je het nest en het nog schone zaagsel weer in de kooi. Je doet in plaats van het vieze zaagsel er wat nieuw zaagsel in. Dan verschoon je het water en ververs je het eten. Dat doe je dan ook in de kooi. Dan doe je de speeltjes weer in de kooi. Als laatst doe je je hamster weer in de kooi. En schoon is je hok!
---
3. Kleine hamsters, Russische dwerghamsters.


In tegenstelling tot normale hamsters zijn Russische dwerghamsters geen nachtdieren. (Dat zijn normale hamsters wel.) Ook overdag is deze soort hamster snel en bewegelijk. Hij is ongeveer zes cm. lang. Zijn kleuren zijn: Grijs met wit, bruin met wit enhelemaal wit. (Albino.)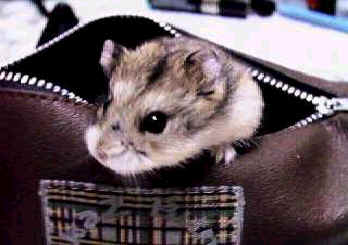 Hij is in het begin niet makkelijk in de hand te houden, maar naarmate hij aan je gewend raakt zal hij zich meer op zijn gemak gaan voelen. Deze hamster is over het algemeen intelligenter dan de normale hamster en kan zich bij een goede omvang zich meer tot de mens gaan richten. De Russische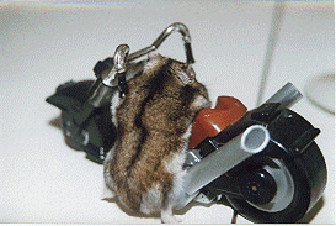 dwerghamster kan gemakkelijk alléén in gevangenschap leven, maar ook met een zusje uit hetzelfde nest. Dit kan bij normale hamsters niet. Tot een leeftijd van drie maanden vertoont deze hamster regelmatig onschuldig bijtgedrag. Het bijtgedrag kan zich op alles richten waar maar in gebeten kan worden. Echt bang hoef je hiervoor niet te zijn want hij zal maar zelden doorbijten. Het klimvermogen is bij de Russische dwerghamster niet zo goed dus je moet er wel bij blijven om hem op te vangen als hij valt. Russische dwerghamsters zijn duurder als normale hamsters. Normale hamsters zijn ongeveer €5,- en Russische dwerghamsters wel €12,- (Ongeveer.)
---
4. Hamsters fokken.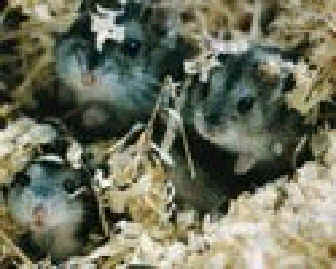 Om hamsters te fokken moet je het mannetje bij het vrouwtje in het hok plaatsen. Niet andersom, want dan kunnen er vechtpartijen los breken. Als je ze samen laat moet je er wel bij blijven want er kunnen alsnog gevechten ontstaan. Als je wil weten wanneer het vrouwtje wil paren dan moet je haar op haar rug kriebelen. Als het vrouwtje dan stokstijf blijft staan met de buik op de grond gedrukt en het staartje omhoog, dan kun je het mannetje bij het vrouwtje plaatsen. Na twee en een halve week kan je de jonkies verwachten. De hamstertjes worden meestal 's nachts geboren. Het vrouwtje zit tijdens de geboorte en poetst het bloed, vocht en nageboorte weg. (In het wild zou dit namelijk roofdieren aantrekken.) Tijdens de geboorte van de hamstertjes (Dit duurt ongeveer tien minuten.) kan de moeder vrij actief zijn en door de kooi gaan lopen en zelfs wat gaan eten of drinken. Baby's worden door deze activiteit of onrust van de moeder meestal niet allemaal op dezelfde plek geboren. De moeder zal na de geboorte uiteindelijk al haar baby's naar het nest brengen. Nooit de baby's aanraken!!!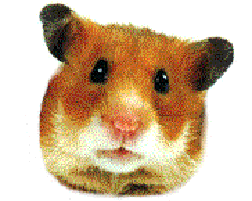 De moeder herkent dan hun geur niet meer en gaat dan haar nest vernietigen door de kleintjes op te eten. De huid van de babyhamstertjes verandert na de geboorte al snel van kleur. De oogjes blijven nog dicht en gaan pas na tien dagen open. Men zal ze dan ook regelmatig zien rondlopen en aan vast voedsel zien knabbelen. De moeder zal dan ook haar pootjes vol hebben om ze steeds weer naar het nest te brengen.
---

5. Ziektes en ongemakken.
Hieronder staan de twee meest voorkomende ziektes en hoe je ze kan oplossen:
1. Verkoudheid
Hamsters zijn erg bevattelijk voor kou en tocht. Heb je zelf een stevige kou te pakken, ook dan is het oppassen, want je kan al je diertjes besmetten. Het beste is dat je een masker draagt (Zoals verpleegsters) of iemand anders de opdracht geven om je hamster te verzorgen. Als je hamster toch verkouden is dan kun je dat merken aan een doffe blik in zijn ogen en hij zit soms wel drieëntwintig en een half uur in zijn nest (Per dag.) met de oren naar achter geslagen. Het neusje is gezwollen en de haren staan recht overeind. Wat je er aan kan doen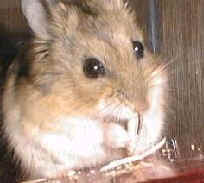 is: Voer vers voer, vers water en verse melk, geweekt broodmet enkele druppels levertraan en desinfecteermiddel in het drinkwater van de zieke hamster. Dan zal het hamstertje snel opknappen.
2. Diarree
De oorzaak van diarree ligt doorgaans in bedorven of ongeschikt voer of voer dat is bespoten. (Groenvoer bijv.) Slechts een juiste verandering van voer zal hier de uitkomst brengen, terwijl de dierenarts een desinfecterend middel in het drinkwater kan geven. Een beetje norit door het voer kan beslist geen kwaad.
Maak jouw eigen website met

JouwWeb