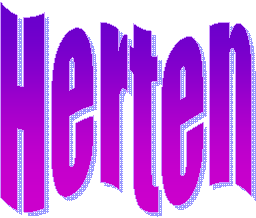 Inleiding:
Ik heb dit onderwerp gekozen omdat ik op vakantie een huisje met een hertenwei had. Ik vond de herten
heel lief dus wilde ik er iets over weten.
Hoofdstukken:
1. De geboorte.
2. Het uiterlijk.
3. De soorten.
4. Het voedsel en drinken.
---
DE GEBOORTE
De paartijd van de herten word ook wel eens de bronstijd genoemd, de hinde (het vrouwtje) is in december in verwachting.
Het volgend voorjaar krijgt ze haar kalfje (haar jong).
Als het kalfje is geboren wist de moeder alle sporen van de geboorte uit.
Dat doet ze omdat de roofdieren haar kalfje dan niet meer ruiken.
Het kalfje moet natuurlijk ook kunnen lopen dus probeert al gelijk op zijn poten te staan.Als het is gelukt om op eigen benen te staan wankelt hij nog wel een beetje. Het kalfje zoekt gelijk naar de tepels van zijn moeder om te kunnen drinken. Twee uur later durft het kalfje al een paar stappen te zetten.
Het kalfje loopt heel de tijd achter zijn moeder aan.Het kalfje doet haar in alles na. Zoals: het doet mee als ze gaat slapen, als ze gaat gras eten, als ze gaat water drinken enzovoort.De kalfjes drinken 3 tot 4 maanden bij hun moeder.
---
HET UITERLIJK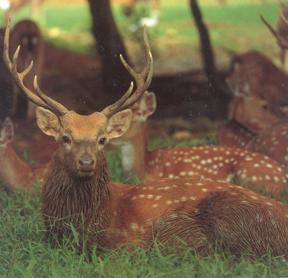 Het hert heeft een bontjas met grote of kleine witte vlekjes. Het mannetjes hert krijgt in april of mei een gewei. Hoe ouder het hert wordt, hoe meer het gewei zich gaat vertakken. In het najaar wordt de bast op het gewei langzaam hard en begint het eraf te vallen. Het hert gaat dan tegen de boomtakken of stenen vegen om de bast kwijt te raken. En als het hert op de bast van zijn gewei wrijft zie je een beetje bloed. En waar het bast van het gewei helemaal af is lijkt het gewei net twee takken. De herten vechten met hun gewei. Dat doen ze, omdat ze iets willen pikken zoals; een gebied, voedsel, enzovoort. Er is altijd wel iets in te pikken. In maart of april verliest het mannetje zijn gewei, dan kan je de mannetjes en de vrouwtjes niet meer uit elkaar houden.
---
De Soorten
Er zijn verschillende soorten herten zoals: Damherten, Reeën, Rendieren en edelherten. Er zijn wel 36 soorten herten. Ik vertel nu over deze 4 soorten herten.
Edelherten
Edelherten zijn herten die een open gewei hebben. Edelherten leven in loofbossen op vochtige, voedselrijken gronden. Je kunt ze herkennen aan dat ze 200 centimeter lang zijn, dat de vacht 's zomers roodbruin is en s'winters bruingrijs is en dat de mannetjes een gewei hebben en manen hebben. Het edelhert wordt regelmatig het slachtoffer van het verkeer, door zijn zwervende bestaan over grote oppervlakten.
Damherten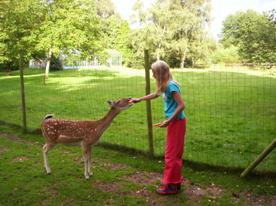 Damherten lijken heel veel op edelherten alleen het gewei is anders.
Het gewei van damherten zijn net platte platen. Ze noemen dat een schoffelgewei.
Reeën
Reeën leven in loofbossen op vochtige, voedselrijke gronden. Je kunt ze herkennen aan dat ze 100 centimeter lang zijn, dat de vacht s'zomers roodbruin is en s'winters grijsbruin is, er zit een wit vlak om de staart en het mannetje is klein en heeft een vertakt gewei. Als reeën verplaatsen door het leefgebied steken ze regelmatig de weg over. Ze zijn regelmatig het verkeersslachtoffer.
Rendieren
Rendieren zijn beesten die voor een slee van de kerstman rennen. Een van die rendieren heet Rudolf, hij heeft een rode neus. De normalen rendieren hebben dat niet. Het gewei verandert onregelmatig van vorm. De vrouwtjes rendieren hebben een gewei, andere soorten hebben dat niet. Rendieren trekken in Canada over grote afstanden. In Europa gaan ze niet zo ver. Er worden ook tamme rendieren in Lapland gehouden.
---
VOEDSEL EN DRINKEN
Herten eten heel de dag van 's ochtends tot 's avonds.
Ze eten dan gras, ze laten hun kop dan zakken om vers gras te zoeken.
Ze eten ook jonge boomblaadjes, maar dan moeten ze soms op hun tenen staan om daar bij te kunnen. De herten lusten ook wel een lekker worteltje, brood of pompoenen. Van eten moet je natuurlijk ook poepen, de hertenkeutels zijn kleine, harden balletjes. En de herten drinken water.
In de wintertijd valt het niet mee of voedsel te vinden. Vaak moeten ze dan droog gras, hei of bast van een boom eten. Herten zijn soms zelf ook voedsel, maar dan wel voor een wolf. Als het hert zijn gewei verliest knagen muizen en eekhoorns aan dat gewei dus is dat ook eten voor hun.
---
Maak jouw eigen website met JouwWeb