Ik hou mijn spreekbeurt over katten, want thuis hebben we een kat ze heet Sammy. En omdat ik ze heel leuk en lief vind.
De geschiedenis van de kat
Eerst een stukje over de geschiedenis van de kat.

Hoe en wanneer verschillende soorten van de wilde kat huisdier zijn geworden weten we niet. Er is bewijs dat in het oude Egypte omstreeks 2000 jaar voor Christus al huiskatten waren.
Toen de nomadische jager landbouwer werd, moest hij zijn voedselvoorraden tot de volgende oogst beschermen. Het graan werd opgeslagen in voorraadschuren, die niet volledig veilig waren tegen ratten en muizen.
Op zoek naar voedsel moeten wilde katten steeds in de nederzetting zijn beland, op jacht naar de talrijker wordende muizen en ratten. De mensen moeten al snel hebben gemerkt dat katten als knaagdierdoder en beschermers van graanvoorraden uiterst nuttig waren. Anders dan honden, die al veel eerder waren gevonden en gebruikt, waren katten bijzonder bruikbaar omdat ze juist 's nachts op jacht gingen, op het tijdstip waarop ratten en muizen zich aan de voorraden vergrepen. De boeren jaagden de katten niet weg, maar moedigden ze aan te blijven. Zo kwam de band tussen kat en mens tot stand.

Het leven met een kat
Een kat heeft ruimte, goede verzorging en aandacht nodig. Een kat hebben is niet zo heel erg duur. Het is ook niet altijd leuk. Je moet bijvoorbeeld de kattenbak schoonmaken en het eten stinkt heel erg.
Waar haal je een kat vandaan?
Een kat koop je niet in een dierenwinkel zoals een hamster of een goudvis. Je moet iemand weten die een nest met jonge katjes heeft en ze kwijt wil. Het kleine katje moet minimaal 6 weken bij zijn moeder blijven voordat hij weg mag.
Iets over de kat zelf
De kat behoort tot de katachtige familie (foto stamboom) net zoals de leeuw, de tijger, het jachtluipaard en de panter. Dit zijn allemaal wilde dieren. Er zijn ook nog steeds wilde katten. Onze huiskat heeft nog steeds iets wilds in zich en zal ook nooit het jagen afleren. De snorharen van een kat dienen als voelsprieten om te voelen of ze ergens doorheen kan.Evenals bij alle katten is het gehoor van de huiskat zeer scherp. Zelfs het kleinste geritsel van een muis hoort ze. Katten kunnen vooral in het donker goed zien.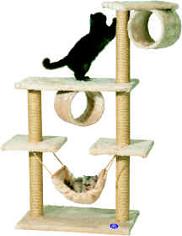 Een huiskat heeft een krabpaal (foto) nodig om zijn nagels te scherpen. Een wilde kat of een kat die veel buiten is, doet dat op de bomen. Een krabpaal kun je kopen maar ook zelf maken. Als je een krabpaal in huis hebt, voorkom je dat de kat de meubels kapot krabt.
Hoe zit het met het eten en drinken van een kat?
Wat ongezond is voor een kat, zijn resten van ons eten, schoteltjes melk en geweekt brood. Dus het is eigenlijk gewoon beter om ze blikvoer (foto) en brokjes te geven.

Als drinken kan je gewoon water geven. Als een katje jong is heeft hij drie keer per dag eten nodig, maar als hij volwassen begint te worden (ongeveer negen maanden oud) dan hoeft hij maar twee keer per dag of zelfs maar een keer per dag eten te hebben. Als een kat oud is, is het weer beter om hem drie of vier keer per dag eten te geven.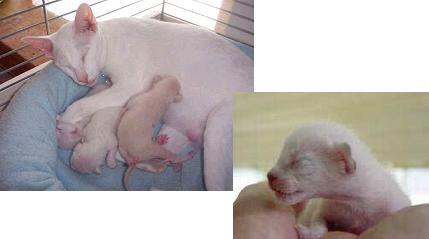 De geboorte van een kat
Jonge katjes noem je kittens. Een mannetje is een kater. Een vrouwtje is een poes. Een moederpoes krijgt 3 tot 5 katjes per keer. Dat noemen we een worp. De poes is dan ongeveer 63 dagen drachtig geweest. Dat is maar 2 maanden. De kittens worden met vacht geboren maar hun ogen zitten nog dicht (zie foto) en ze kunnen hun nagels nog niet intrekken. Dit komt later pas.
Wat vind een kat fijn en wat niet?
De meeste katten vinden het fijn om als een baby te worden gedragen. Als je een kat wilt oppakken, moet je dat voorzichtig doen nooit in het nekvel pakken! Alle katten vinden het fijn om geaaid of geknuffeld te worden. Katten vinden het leuk om in een papieren zak of een kartonnen doos te zitten, omdat dat klein en knus is. Ook met touwtjes en kleine speeltjes zoals een balletje (zie foto's) of nep muisjes spelen vinden ze erg leuk.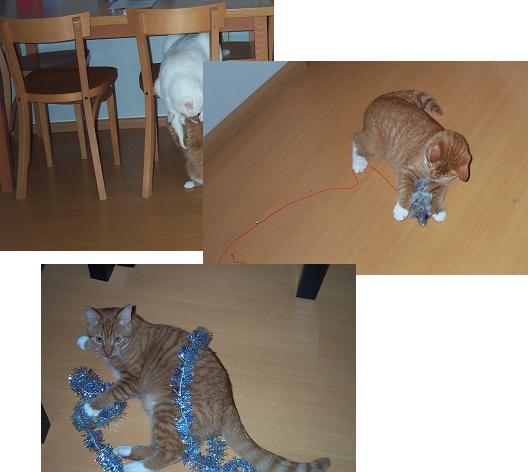 Een aantal rassen
Er zijn tientallen kattenrassen. Ik noem er een paar.
De Colorpoint blue
De Margay (wilde kat)
De Snowshoe
De Munchkin
De Blauwe rus
Beet
Een kat heeft een speciale vangtechniek. Zijn poten zijn daar helemaal voor gemaakt. Bij het sluipen loopt hij op voetkussentjes. Muisstil kan hij zo zijn prooi vangen. Een kat kan zijn nagels uitslaan om zijn prooi mee vast te houden. Met behulp van kleine spieren kunnen de nagels worden in- en uitgeklapt.

Scherpe tanden
Een kat heeft hele scherpe tanden. Een kat gebruikt zijn kiezen alleen om vlees mee los te scheuren. Hij kan er niet mee kauwen. Vleesstukken slikt hij dus zo door. Om deze tanden gezond te houden is het verstandig om hem harde brokjes te geven,
die schuren namelijk de tanden schoon.
Aangeleerd gedrag

Het jaaggedrag van katten is aangeleerd. Jonge katten zien bij hun moeder hoe ze een muis of mus moeten vangen. Pas als ze het gezien hebben, kunnen ze het later zelf ook. Eerst is jagen een spel. Door veel oefenen en fouten maken leert een kat de kunst. Wanneer een kat het jagen niet als kitten heeft geleerd, zal hij later nooit muizen vangen, zelfs niet als hij geen eten krijgt. Katten die voldoende te eten krijgen, gaan soms toch op pad. Vervelend is, dat ze hun prooi niet vaak dood maken. Dat doen ze waarschijnlijk omdat ze geen honger hebben en ze het een leuk speeltje vinden.
Prikken

Toen wij klein waren, kregen we allerlei prikken tegen ziektes. Dat zijn inentingen. Katten krijgen deze ook. Het zijn inentingen tegen de kattenziekte en de niesziekte. Dat zijn allebei besmettelijke ziektes. Onze kat gaat hiervoor 1 keer per jaar naar de dierenarts. Ook krijgt zij een prik tegen vlooien en wordt zij ontwormd. Want katten hebben vaak last van wormen in hun buik. Dat komt omdat ze veel rauw vlees eten. En omdat ze altijd hun vuile pootjes en vacht schoonlikken.
De prikken en de rest van het onderzoek wordt in een paspoort gezet, dit moet je goed bewaren voor als je je kat mee wilt nemen naar het buitenland.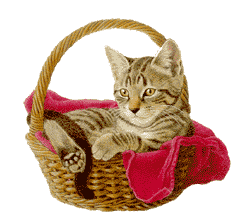 Een tong van schuurpapier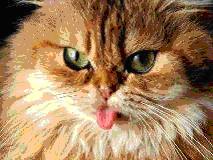 De tong van de kat is erg ruw, net zoals schuurpapier. Hierdoor kan hij goed water drinken en zijn vacht wassen. Alle katachtigen wassen zich met hun tong.
Een gezonde kat
Gelukkig is Sammy (onze kat) gezond. Ze likt haar glimmende vacht. Haar neusje is nat en ze ligt gezellig te spinnen. Ze eet haar bakje soms leeg. Maar is wel halfblind ze is dan ook al 14 jaar oud. Als je dit vergelijkt met een mens dan moet je 14 x 7 doen 98 jaar is ze dan.

Dit was mijn spreekbeurt.
Maak jouw eigen website met JouwWeb