HET KONIJN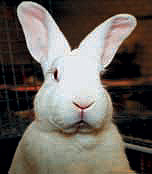 1. Inleiding
Ik houd mijn spreekbeurt over konijnen, want ik vind het hele lieve dieren. Konijnen zijn hele lieve dieren en ze bijten bijna nooit. Daarom is het een gezellig huisdier. Maar het vraagt veel verantwoordelijkheid.
2. Geschiedenis
Er is een lange geschiedenis van het konijn. Ik ga daar een stukje van vertellen. Het eerste volk dat konijnen ving, waren de Romeinen. Zij vonden het vlees erg lekker, en de vacht konden ze gebruiken om kleding van te maken. Na de Romeinen hielden de franse kloosterlingen de konijnen in gevangenschap. De 'gewone mensen' (de wat armere mensen) gingen ook konijnen houden. Het vlees werd gegeten en van de vacht maakten ze bontjassen. Tijdens de oorlogen werden konijnen veel gefokt, omdat konijnen weinig plaats innamen en goedkoop aten. Zo hadden de mensen toch nog vlees in de oorlog. Tot het jaar 1850 werden konijnen alleen gefokt en gehouden om hun vlees en hun vacht voor de bontjassen. Ze werden nog niet voor de lol gehouden. Pas na de tweede wereldoorlog (vanaf het jaar 1945) werden konijnen als huisdier gehouden.
3. Wat moet je iedere dag voor je konijn doen?
· Iedere dag eten geven.
· Iedere dag zijn fles of waterbakje verschonen.
· Nieuw hooi,stro geven.
· En VOORAL aandacht geven.
· Kijken of je konijn gezond is.
4. Verzorging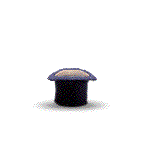 Een konijn wast zichzelf erg veel. Een konijn zelf kan geen nagels laten slijten, dus kun je ze knippen. Dat kun je bij de dierenarts laten doen, maar wij doen het zelf. De tanden van een konijn groeien het hele jaar door. Dus moet je er voor zorgen dat het konijn iets heeft om aan te knagen (een knaagblok). Als de vacht van een konijn niet glad is en niet zacht, dan is hij/zij niet gezond. Het meest wast een konijn zijn/haar gezicht, en het grappigste is als ze hun oren wassen. Als ze hun achterpoten wassen dan strekken ze die helemaal lang uit.
5. Hok
Als je een konijn hebt dan zetten de meeste mensen hem in een hok. Maar konijnen moeten net als mensen ook beweging krijgen. Je kunt hem bijvoorbeeld binnen laten lopen, of een buitenren voor het konijn maken of kopen. Onze konijnen lopen af en toe los in de tuin. Als je een konijn een maand of twee in zijn hok laat zitten dan kan hij bijna niet meer lopen. Als je een konijn laat lopen gaat het soms van plezier sprongetjes maken. Het maakt niet uit in wat voor een hok je het konijn doet. Een konijn dat altijd al buiten heeft gestaan moet je niet opeens binnen zetten, want de temperatuur van binnen en buiten verschilt veel. Onze konijnen staan buiten in een groot hok.
6. Dierenarts
Een dierenarts helpt dieren gezond te houden en zieke dieren weer beter te maken. Hij kan je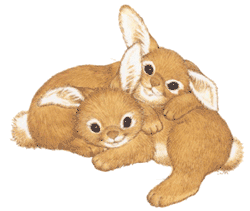 vertellen hoe je je konijn moet verzorgen, en heb je vragen over je huisdier, dan kan je dat altijd aan hem of zijn assistente vragen. De assistente helpt de dierenarts. Zij weet ook veel over konijnen. Als je konijn ziek is, geeft de dierenarts je een medicijn en vertelt wat je moet doen zodat je konijn weer beter wordt. Mijn konijn is ook eens erg ziek geweest, we dachten dat hij dood ging, maar gelukkig heeft de dierenarts hem weer helemaal beter gemaakt. We moeten mijn konijn goed in de gaten houden en vaak haar kontje wassen, anders wordt ze weer ziek.
7. Mijn konijn.
Naam: Snuf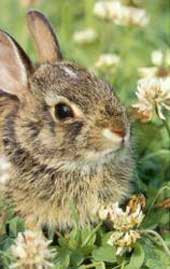 Gewicht: 1,5 kilo
Ras: dwerg
Kleur: zwart
Lengte: 30 cm
Geslacht: vrouwtje, of voedster
Bijzonderheid: haar ogen glinsteren
Lievelingseten: Tarwe aartjes
Geboren:mei 1997
Zij is nu 5 jaar
---
8.Beroemde konijnen.
· Stampertje
· Bugs bunny
· Peter Rabbit
Maak jouw eigen website met JouwWeb