Ik wil mijn spreekbeurt doen over krokodillen.
De eerste krokodillen
De eerste krokodillen verschenen meer dan 200 miljoen jaar geleden. Ze leken toen erg op grote dolfijnen. Ze leefden samen met de dinosaurus. Deze is echter al lang uitgestorven.
De krokodillen leven in de warme streken op onze planeet zoals:
Zuid-Amerika

Afrika

Azië

Australië
Er bestaan verschillende soorten krokodillen. De bekendste zijn de Afrikaanse krokodil, de Nijlkrokodil en de Indische krokodil. Dan heb je ook natuurlijk nog de alligator, de kaaiman en de gaviaal.
Als je wilt weten of een dier een krokodil of een alligator is moet je op het volgende letten: Als er tanden uit zijn bek steken is het een krokodil, als al zijn tanden bedekt zijn is het een alligator.
Krokodillen zijn gemene roofdieren. In de vrije natuur worden er elk jaar nog tenminste 500 mensen opgegeten door krokodillen.
Een krokodil is een reptiel. Ze zijn koudbloedig. Dat betekent dat ze niet van zichzelf warm zijn. Als het warm is, is de krokodil ook warm. Als het koud is, is de krokodil ook koud.
Het lijf van een krokodil
Krokodillen kunnen heel goed in het water leven. Het hele lijf is daar op gebouwd. Ze kunnen een paar uur onder water blijven zonder adem te halen. Dan daalt de hartslag tot 3 slagen per minuut. Ze kunnen zelfs met hun bek open onder water blijven. Dit komt door een waterdicht schot voor in zijn keelgat.
Hun neus, ogen en oren liggen boven aan zijn kop. Zo kunnen ze heel stil in het water liggen en toch hun prooi goed in de gaten houden. Als de krokodil onder water is, gaat er een vlies over het oog. Dit is een soort duikbril. Hij kan dus heel goed zien onder water.
De neus wordt afgesloten met een spier. Daar komt dan geen water in. De oren die vlak achter de ogen zitten worden beschermd door een grote schub. De krokodil heeft twee voorpoten en twee achterpoten. Aan elke voorpoot zitten vijf tenen. Aan elke achterpoot vier tenen. Tussen deze tenen zitten meestal zwemvliezen. Ook heeft de krokodil een sterke brede staart. Hier kan hij flinke klappen mee uitdelen. Hij gebruikt de staart ook om mee te zwemmen. Bij het zwemmen legt hij zijn poten tegen het lichaam aan. Hun huid bestaat uit harde hoornplaatjes. Deze hoornplaatjes zijn versterkt met been.
Hoe krijgen ze jongen
Krokodillen paren alleen onder water. De vrouwtjes leggen eieren en begraven deze in het warme zand. Wanneer het te koud is, komen de eieren niet uit. Ze broeden de eieren niet uit maar blijven in de buurt om ze te beschermen omdat andere dieren ze anders kunnen opeten. Ze legt ongeveer dertig tot veertig eieren. Om deze eieren zit een dikke sterke schaal. Deze eieren zijn wat groter dan kippen eieren.
3 Maanden later komen de eieren uit en worden de kleintjes geboren. De kleintjes in het ei hebben een neustandje om het ei kapot te maken. Ze maken dan een kwakend geluid. De moeder krokodil hoort dit en zij graaft dan de kuil gauw open zodat de kleintjes eruit kunnen. Ze zijn dan ongeveer 30 cm. groot.
Gevaar voor de jongen
De krokodillen-eieren en babykrokodillen worden vaak opgegeten door andere roofdieren, zoals slangen, vogels, schildpadden en grote vissen. 3 van de 100 babies overleeft het maar. Dit is dus heel weinig.
Een volwassen krokodil wordt ongeveer 5 meter lang. De mannetjes worden groter dan de vrouwtjes en kunnen wel 1.000 kg. wegen.
Het voedsel van de krokodillen
Het vrouwtje zorgt goed voor de kleintjes en zij draagt deze in de bek naar het water. De babykrokodillen moeten zelf voor eten zorgen. Ze eten insecten, vissen en kikkers. Als ze 1 jaar oud zijn moeten ze zelf kunnen overleven, anders worden ze door de andere krokodillen opgegeten. De grote krokodillen moeten dan ook weer voor andere babykrokodillen zorgen.
De krokodillen groeien hun hele leven door. Ze worden ongeveer 100 jaar oud. Door hun snelheid en sterke kaken kunnen ze grote beesten vangen. Ze kunnen heel goed zwemmen en gebruiken daarvoor hun krachtige staart. Met hun poten blijven ze in evenwicht, kunnen ze van richting veranderen of afremmen. Op het land kunnen ze op hun poten gaan staan en over een korte afstand heel hard lopen.
Ze kunnen wel meer als 2 meter hoog springen om hun prooi te vangen. Ze eten alles wat van vlees is en te dicht in de buurt komt. Ze vangen vogels, zebra's, koeien en andere grote beesten. Deze worden dan onder water getrokken en aan stukken gescheurd. Ze eten ze dan met z'n allen op.
Ze eten niet zo veel, ze eten meestal maar 1 keer in de 3 dagen. Omdat krokodillen koudbloedig zijn hebben ze niet veel eten nodig om hun lijf warm te houden. Ze kunnen wel 3 maanden zonder voedsel.
Luieren in de zon
Krokodillen liggen veel in de zon om lekker warm te worden. Een krokodil kan niet zoals een mens zweten. Als hij het te warm krijgt zet hij zijn bek open om zo de temperatuur te regelen. Ze houden van een temperatuur van rond de 30 graden. Als ze het te koud of te warm hebben kunnen ze doodgaan. Daarom kunnen ze in Nederland niet leven. Krokodillen leven in groepen bij elkaar. Daar zie je ook vaak vogels bij ze. Dit vogeltje wordt de krokodilwachter genoemd. Hij pikt de restjes vlees tussen de tanden van de krokodil uit en ze houden zo de tanden van de krokodil netjes schoon. De krokodil kan zelf zijn tanden niet schoonmaken omdat zijn tong vastgegroeid is.
De krokodil lijkt van binnen veel op de mensen, met dezelfde organen. Je ziet hier de rug, het hart, de lever, de longen, de darmen, de nieren en de maag.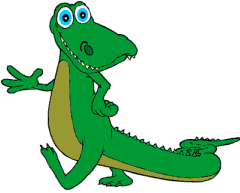 De geluiden van de krokodillen
Krokodillen kunnen met elkaar praten door geluiden te maken. De kleintjes roepen hun moeder. Soms grommen krokodillen als ze elkaar tegen komen. De mannetjes en vrouwtjes kunnen elkaar roepen.
De jagers
Op de krokodillen is veel gejaagd vanwege de huid. De jagers gaan vaak 's nachts jagen, want de ogen van de krokodil geven licht. Zo kunnen ze ze gemakkelijk zien. De jagers schieten ze dan tussen de ogen.
Van de huid worden tasjes, schoenen, horlogebandjes en andere dingen gemaakt. Deze zijn erg duur. Voor zo'n huid werd dan ook veel betaald. Dor het jagen stierven de krokodillen bijna uit. Daarom mocht er van de regeringen niet meer op hen worden gejaagd. Nu zien we ze weer veel meer in de natuur. Ook worden er krokodillen groot gebracht in natuurreservaten zodat ze niet bang hoeven te zijn voor stropers. Als ze dan oud genoeg zijn worden ze weer teruggezet in de vrije natuur.
dit was mijn spreekbeurt
Maak jouw eigen website met

JouwWeb