NERTSEN
Hallo allemaal, ik doe mijn spreekbeurt over nertsen omdat ik eerst deze dieren zag en ik er wel wat meer over wou weten.
Dit zijn de hoofdstukken waar ik iets over ga vertellen: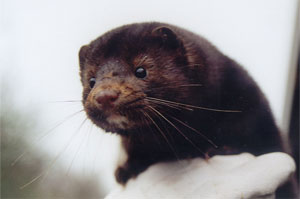 Wat is een nerts?
Hoe is een nerts als huisdier?
De verzorging van een nerts.
De voeding van een nerts.
---
Hoofdstuk 1 WAT IS EEN NERTS?
Een nerts is een dier dat dood wordt gemaakt om van zijn vacht bond te maken. De Nederlandse nerts stamt af van de wilde Amerikaanse nerts. De eerste donkerbruine nertsen werden hier al ongeveer 80 tot en met 90 jaar geleden naar toe gebracht. Er zijn ook witte en grijze nertsen. Zelfs nertsen met een vacht van een koe. Maar van de nertsen die wij in Nederland hebben zijn de meeste donkerbruin of zwart. Hij is familie van een otter en van een das.
---
HOOFDSTUK 2: HOE IS EEN NERTS ALS HUISDIER
Als je een nerts als huisdier wil, moet je nog een keer goed nadenken. Voor mensen die wel ervaring met honden en poezen hebben maar niet met een ander dier MOET er niet aan beginnen. Ook mensen die hun huis niet kunnen of niet willen verbouwen voor een nerts moeten er ook niet aan beginnen. Mensen die geen tijd hebben of geen tijd vrij willen maken moeten er ook niet aan beginnen. Een nerts is echt geen knuffeldier. Een nerts zit overal op in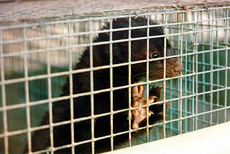 of aan. Sommige mensen willen geen nerts omdat ze zeggen dat ze stinken. Nertsen stinken wel maar niemand ruikt het als je bij een nerts bent geweest. Alleen de hond ruikt het. Een nerts is heel actief. Daarvoor heeft hij ook een grote ren voor nodig. Sommige mensen geven een nerts een veel te kleine ren. Daar kan hij zijn energie nooit in kwijt. Nertsen kunnen ook zwemmen. Dus in die ren mag gerust een beetje water in zitten. Een nerts doet overdag behalve eten en drinken slapen en spelen. Meestal zit er in zijn kooi ook een speelbuis of iets anders waarmee hij kan spelen.
---
HOOFDSTUK 3: DE VERZORGING VAN EEN NERTS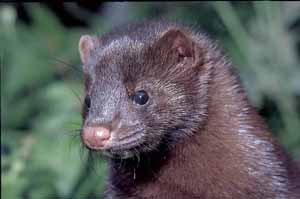 Bij de verzorging van de nerts horen een paar belangrijke punten:
Je moet elke dag controleren of hij zijn eten op heet en dat hij het nergens heeft verstopt.
Je moet 1 keer per weet de kattenbak waar hij in poept en plast verschonen
Dat je nerts elke dag schoon water en eten krijgt
Dat de sheds en de kooien groot genoeg zijn. Sheds zijn een soort open stallen met kooien voor nertsen erin.
Of ze genoeg licht hebben
Voor de zekerheid kun je ze inenten tegen ziektes. Dat is zeker nodig als je vaak met je nerts gaat wandelen of gewoon buiten komt of speelt. De ergste nertsenziekte is:Aleution Distemper. Dat is een egte nertsenziekte. De ziekte is heel besmettelijk voor andere nertsen. Als je nerts deze ziekte heeft kan je hem niet meer genezen.

---
HOOFDSTUK 4: DE VOEDING VAN EEN NERTS
Een nerts hoort bij de groep van vleeseters. Dat heeft ook een netter woord: Carnivoren. Dat vlees wat ze eten is meestal een restje van wat wij eten. Wij hoeven dat dan niet meer en laten het op ons bord liggen. De mensen die nertsen hebben geven dat meestal aan de nertsen. Hun vinden dat juist lekker.maar voor hun het voor hun neus krijgen moeten het gemalen worden. Dat wordt gedaan in een voerfabriek. Daarna worden er vitamines en mineralen aantoegevoegd. Dat hebben nertsen nodig voor hun gezondheid.
Dit was mijn spreekbeurt.
Maak jouw eigen website met

JouwWeb