Inhoud
Voorwoord

Benamingen

Geschiedenis

Raskenmerken

Lammeren

Ziektes

Verzorging

Omgeving

Schapen scheren

Wist-je-dat weetjes
Benamingen
Ooi = vrouwtje
Ram = mannetje
Lam = schaap t/m 1 jr.
Hamel = gecastreerde ram
Kween = tweeslachtig dier, het heeft kenmerken van een ooi en een ram.
Geschiedenis
Vroeger werden schapen heel anders verzorgd als nu. Vroeger werden de meeste schapen niet geschoren, en als ze geschoren werden gebeurde dat met een schapenschaar. Vroeger werden de schapen nog niet in een wei gehouden. Toen waren er kuddes schapen die bij elkaar bleven. Die kuddes liepen altijd gewoon los. Meestal liep er een herder bij de kuddes.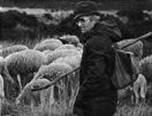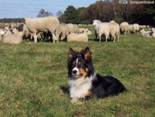 Die herders hadden vaak een of twee honden bij. De honden liepen dan rondjes om de kudde heen, zodat de schapen bij elkaar bleven, en niet weg konden lopen. Dat noem je schapen hoeden. De honden waren dus eigenlijk lopende hekken. Honden die er vaak voor werden gebruikt zijn: border collies en beaucerons ( Franse herdershond ).Vroeger werden er ook al truien van schapenwol gemaakt, net zoals nu. Maar vroeger werden de truien met de hand gemaakt. Tegenwoordig gebeurt dat met machines.
Raskenmerken
Natuurlijk is niet elk schaap hetzelfde. Daarom heb ik iets geschreven over een paar bekende rassen. Soms zit er veel verschil tussen 2 rassen. En soms lijken ze als 2 druppels water op elkaar. Een paar bekende rassen zijn: Het Drents Heideschaap, de schoonebeeker heideschaap, het melkschaap, de kerry hill en de zwartbles.
Drents Heideschaap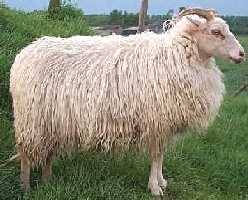 Het Drents Heideschaap is een oud en zeldzaam ras. Je ziet ze ook niet zo veel in Nederland. Hij heeft vaak matte haren op zijn kop, die niet te veel mogen glanzen. Tussen de hoorns zit vaak een wollig kuifje. Hij heeft veel wol op zijn staart. De wol van het Drents Heideschaap bestaat uit 3 delen: De kortfijne onderwol, de lange harige wol, en de zogenaamde kemp. Als je het schaap gaat scheren krijg je vaak 1 / 2 kg per schaap.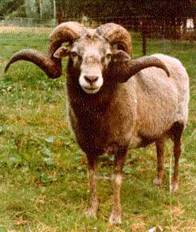 De kleur van de vacht is wit, crème, bruin of zwart. De kleur van de kop en de poten is lichtbruin/zwart. Bij zwarte dieren mogen er witte vlekken zitten op de kruin, snuit, staart kraag en poten. De ooien hebben geen horens. Rammen dragen wel horens. Die horens zitten vrij van de kop, en moeten spiralen, zodat hij genoeg ruimte heeft voor zijn oren. Het oude type Drents Heideschaap krijgt meestal 1 lam. Maar tegenwoordig worden de schapen beter gevoed, dus is een tweeling geen uitzondering. De moeder zorgt goed voor de lammetjes.
Het
Schoonebeeker Heideschaap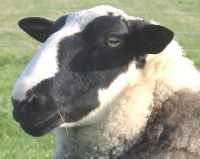 De Schoonebeeker is het grootste heideschaap in Nederland. Opvallend is de hoogbenigheid en de lengte van de romp. Hij heeft geen hoorns, en heeft de zogenaamde "Romeinse neus"De kop is lang en smal. Op de kop en de poten heeft de Schoonebeeker geen wol. Het haar wat hij daar heeft is glanzend. Hij heeft een lange hals, en zijn kop word hoog gedragen. Het Schoonebeeker Heideschaap Kan een vuilwitte of zwarte vacht hebben. Vaak is de heeft de kraag een iets donkerdere kleur dan de rest van de vacht. De kleuren op de romp kunnen nog veranderen, die kleuren kunnen wat donkerder worden.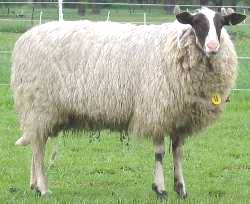 De kleur op de poten en de kop blijft altijd hetzelfde.
Ooien krijgen vaak 1 of 2 lammetjes. De ooien kunnen 50 kg worden, en de rammen kunnen 80 kg worden.
Het melkschaap

Het melkschaap is een erg oud ras. Men vermoedt dat het ras uit de tijd van de Oost Indische Compagnie komt. Een melkschaap is geheel wit, krijgt makkelijk lammetjes en geeft veel melk. Hij krijgt vaak twee- of drielingen. Maar ook een vierling is geen uitzondering. Hij heeft een langwerpige kop. Er zit weinig of geen wol op zijn kop, en zijn haar lijkt op zijde. Zijn oren zijn lang en matig breed. De hals van het heideschaap zit vol wol, net als zijn hele lijf.
Zijn staart is lang en er zit weinig wol op. De hoeven van een schaap zijn blank. Het melkschaap heeft fijne wol van een goede kwaliteit.
De kerry hill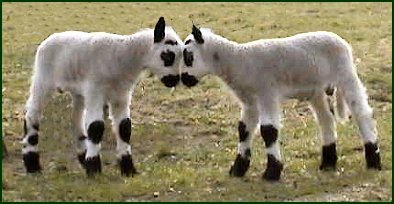 Een kerry hill is een sterk schap. Dankzij zijn ijzeren gestel kan hij het hele jaar buiten lopen, hij hoeft in de winter dus niet in de stal. Maar het mag natuurlijk wel. De kerry hill is een erg fors schaap. Een volwassen ooi kan wel 55 tot 65 kilo wegen. Een volwassen ram 65 tot 75 kilo. Ook heeft de kerry hill een goede weerstand tegen ziektes, en past hij zich aan aan verschillende weersomstandigheden. De kerry hill heeft een sterk gebit, en sterke poten. De kerry hill is helemaal wit, met uitzondering zijn poten, knieën, oren, neus, ogen en het puntje van de staart. Die zijn zwart.

De zwartbles
De zwartbles is een schaap dat veel word gehouden voor de hobby. De zwartbles groeit erg snel. Hij heeft lange benen, en een wigvormige romp. De kop is ongehoornd, lang en smal. De oren worden horizontaal gedragen.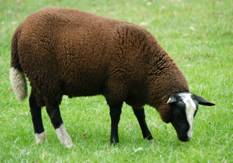 Een ooi is 78 tot 82 cm en heeft het gewicht van 80 tot 100 kg. Een ram wordt 88 tot 95 cm, en weegt tussen de 120 en 145 kg. De zwartbles is geheel donkerbruin, maar heeft een witte bles, 2 of 4 witte sokjes en heeft een wit puntje aan zijn staart.
De zwartbles is goed vruchtbaar en lamt gemakkelijk af. Hij geeft genoeg melk om 2, 3 of zelfs 4 lammeren te voeden.
Lammeren
Ook het schaap krijgt kinderen. Deze kinderen noem je een lam. Meestal worden er per keer 3 of 4 lammetjes geboren. Maar soms ook 1 of 2. Voordat er lammetjes zijn moet er nog veel gebeuren. Eerst moet de ooi worden gedekt. Dan is de ooi

gemiddeld 148 dagen zwanger. Maar het ene ras is wat langer zwanger als het andere. Als de lammetjes worden geboren moet je zorgen dat er iemand bij is die al vaker een geboorte heeft meegemaakt, als er dan iets mis gaat kan diegene helpen. Je moet ook zorgen dat je een paar handdoeken bij hebt, om de lammetjes schoon te maken. Als de lammeren geboren worden zitten ze namelijk helemaal onder het bloed. Als eerst komt de kop eruit, daarna de voorpoten, en daarna de rest van het lammetje. In het begin van de geboorte zie je nog niet goed dat het een schaap is. Dan ziet het er namelijk zo uit:

Je hoeft de lammetjes niet altijd zelf schoon te maken, want vaak likt de moeder ze schoon. Ook moet je plastic handschoentjes bij hebben, want als het lammetje klem zit moet je wel eens helpen. Als de lammetjes zijn geboren moeten ze biest drinken. Dat is de eerste melk die de moeder geeft. Na een paar dagen mogen de lammeren ook wat hooi of gras eten. Na een paar weken mag je er wat water bijgeven, maar ze moeten nog wel biest blijven drinken. Als de lammeren tandjes beginnen te krijgen mag je ze af en toe een paar brokken geven. Die brokken noem je ook wel krachtvoer. Er zitten een heleboel vitaminen in, en die zijn heel belangrijk voor de lammeren. Als de lammeren ong. een maand zijn hoeven ze geen biest meer te drinken. Dan krijgen de lammeren alleen nog maar gras, hooi, krachtvoer en water.
Ziektes
Net zoals elk dier kan een schaap ook ziek worden. Voor sommige ziektes is een medicijn, andere ziektes zijn weer dodelijk. Een paar bekende ziektes zijn scrapie, zwoegerziekte, zere bekjes, rotkreupel, myiasis en scheerziekte.
Scrapie
Zoals ik al zij is scrapie dodelijk. Scrapie komt voor bij schapen en geiten. Scrapie wordt veroorzaakt door afwijkende eiwitdelen. Die worden ook wel prionen genoemd. Prionen die normaal in de hersenen voorkomen nemen door een onbekende oorzaak een andere vorm aan. Hierdoor worden de hersenen beschadigd. Je merkt het vanzelf als een schaap scrapie heeft. Hij krijgt dan een afwijkend gedrag, gaat dromen en smakken, gaat krabben omdat hij jeuk heeft, en hij krijgt een droge en dorre vacht. Scrapie is erfelijk, als een schaap scrapie heeft mag je er niet meer mee fokken. Soms worden schapen die scrapie hebben daarom ook doodgemaakt. Als een schaap scrapie heeft kan je hem nog wel bij de andere schapen in de wei laten lopen, want scrapie is niet besmettelijk.
Zwoegerziekte
Er is geen medicijn tegen zwoegerziekte. Zwoegerziekte is een virus die langzaam een longaandoening veroorzaakt. De schapen die zwoegerziekte hebben zijn erg kortademig en zullen na een tijd sterven. Zoals ik al zij is zwoegerziekte een virus. Het is daarom belangrijk dat je een schaap met zwoegerziekte apart houd van de schapen die gezond zijn, zodat zij het niet kunnen krijgen. Ook als je twijfelt, moet je het schaap apart houden. Als je dat doet noem je de boerderij "zwoegerziekte vrij"
Zere bekjes
Ook dit is een virusziekte. Zere bekjes komt vaker voor bij lammeren dan bij volwassen schapen. Het schaap krijgt blaasjes op de lippen. Die blaasjes worden later korstjes. Het is zeer besmettelijk, ook voor de mens. Zere bekjes is niet dodelijk. Maar het is geen pretje om te hebben. Lammetjes die zere bekjes hebben mogen ook niet bij de moede drinken. Dan kunnen er namelijk blaasjes op de spenen komen. Die blaasjes worden later ook weer korstjes. Zere bekjes gaat vanzelf weer over. Je kan schapen er voor in laten enten.
Rotkreupel
Rotkreupel wordt veroorzaakt door een bacterie die een ontsteking geeft aan de hoeven van het dier. Als een schaap rotkreupel heeft kan hij moeilijk lopen, en ligt hij vaak op de knieën te eten. Rotkreupel is besmettelijk. Andere schapen die in dezelfde wei staan kunnen het dus ook krijgen. Het gaat niet vanzelf over. Je kunt de schapen ertegen inenten.
Myiasis
Myiasis wordt veroorzaakt door kleine vliegjes die eitjes leggen in de vacht van het schaap. De larven die uit de eitjes komen kruipen naar de huid. Dan gaan ze de huid opeten. Als de boer er niet snel bij is kan het schaap eraan doodgaan. Maar als je er wel snel bij bent moet je de larven doden. Dit doe je door de wol eraf te scheren. Daarna moet je de plek insmeren met een gif dat de larven dood. De delen van de huid die zijn aangevreten moeten worden schoongemaakt. Dit doe je met een desinfecterend middel en een speciale zalf waar de huid weer heel van wordt.
Scheerziekte (darmdraaing)
Vaak krijgt het schaap deze ziekte vlak nadat hij is geschoren. Maar het kan ook voorkomen bij een schaap dat op zijn rug heeft gelegen. Schapen die tijdens het scheren op de rug hebben gelegen lopen kans dat de darmen meedraaien. Hierdoor komen er gassen en giftige stoffen vrij, waardoor het dier waarschijnlijk naar een paar uur sterft. Er is weinig aan te doen. Je kan de schapen er ook niet tegen inenten. Als je ooit in een weiland een schaap op de rug ziet liggen, die niet meer overeind kan komen moet je er meteen naartoe aan en hem rechtop zetten. De boer zal je er dankbaar voor zijn.
Verzorging

Een schaap moet goed verzorgd worden. Het is daarom belangrijk dat het schaap altijd schoon water en hooi heeft. Het schaap moet ook mineralen binnenkrijgen. De mineralen geef je door middel van likbrokken, likstenen of poeder. Een schaap moet ook op tijd ontwormd worden. Dit kan je doen door middel van drenchen, dit is een vloeistof die de schapen moeten drinken. Ook kan je hem pillen geven, het nadeel is dat het schaap het vaak uitspuugt. En er zijn ook injecties. Hierdoor kunnen schapen bang worden, en kunnen ze spuitplekken krijgen. Natuurlijk moet een schaap ook eten. Een schaap eet brokken, hooi en gras. Er zijn veel verschillende brokken. De brokken noem je ook wel krachtvoer. Er zitten namelijk een heleboel vitaminen in, die erg belangrijk zijn voor het schaap. Niet elk schaap krijgt evenveel. De oudere schapen krijgen meer voer als de jongere schapen, en de zwangere ooien krijgen ook meer dan gewone ooien. Het ligt er ook nog maar net aan welke maand het is. In de zomer krijgen de schapen bijvoorbeeld meer water als in de winter.
Omgeving
Tegenwoordig komen schapen in bijna elk deel van de wereld voor. Schapen kunnen in elk klimaat of bodembedekking leven. In Nederland leven de schapen vaak in de wei, en bijna niet in het wild. Een schaap leeft graag in de wei. Daar heeft hij lekker veel gras, en dat vind een schaap heel lekker. Ook vind het schaap het fijn als er een paar heuvels in de wei zijn. Er mogen ook bomen en struiken in de wei staan. Het maakt niks uit hoeveel, als het maar geen bos is. Ook moet er een stal zijn, waar de schapen 's nachts in kunnen slapen. De stal moet waterdicht zijn, en de schapen moeten uit de wind kunnen zitten.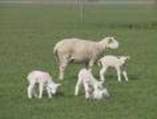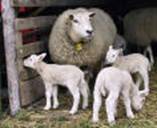 Hier kan je zien dat de schapen in de wei staan, en dat de schapen in de stal staan. In de zomer hoeft er niet zo veel stro in de stal te liggen, want dat trekt vliegen aan. In de winter moet er juist veel stro in liggen, zodat de schapen het lekker warm hebben. Je moet ook op tijd de mest eruit halen. Je kunt zelf zien wanneer dat nodig is.
Schapen scheren
Alle schapen worden 1 keer per jaar geschoren. Schapen worden van oudsher in de regel al in de zomermaanden geschoren. Dit doen ze als het een tijd lekker warm is geweest. Want dan is het wolvet lekker zacht, en dan gaat het scheren veel makkkelijker. Toch worden zwangere schapen steeds vaker in de wintermaanden geschoren, vlak voordat ze in de stal gaan. Daar zijn redenen voor. Als de schapen in de winter worden geschoren passen er meer schapen in de stal, omdat hun dunne vacht bijna geen ruimte inneemt. Ook kan je beter zien wanneer een ooi moet aflammeren. Ook is de ooi dan schoner, het ontsmetten bij het aflammeren gaat dan beter. En als het schaap in de winter wordt geschoren kan het lam de uier veel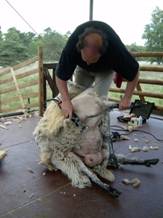 beter vinden. Het scheren gebeurt tegenwoordig met een scheermachine. Vroeger gebeurde dat met een schapenschaar. Nu is dat niet meer, omdat het met de scheermachine veel sneller gaat. Bij het scheren moet je ook op een paar dingen letten. Je moet uitkijken bij gevoelige plekken, en zorgen dat je niet te veel wol eraf scheert. Er moet altijd een klein laagje wol op blijven zitten, zodat het schaap het niet koud krijgt.
Hier zie je dat ze een schaap scheren met een scheermachine. Dit schaap wordt gescheerd tijdens het schapenscheerdersfeest. Dat wordt elk jaar gehouden. Elk jaar kan elke schapenhouder daarheen met zijn schapen, en dan worden de schapen geschoren. Alle mensen mogen komen kijken.
Wist je dat…
… een lam 38,5 tot 40, 5 graden moet zijn
… een volwassen schaap 38,5 tot 40 graden moet zijn
… een schaap alleen tanden in zijn onderkaak heeft
… de 24 kiezen van het schaap in de boven en onderkaak zitten
… een schaap 8 snijtanden heeft
… je aan het slijten van de tanden kunt zien hoe oud het schaap is
… een schaap 4 magen heeft, de pens, de lebmaag, de boekmaag en de netmaag
… krachtvoer extra wordt bijgegeven aan drachtige ooien, en ooien met lammeren.
… een schaap gemiddeld 147 dagen zwanger is
… het aantal lammeren afhangt van het ras
… een schaap zeslingen kan krijgen
… het kleinste ras gemiddeld 14/15 kilo weegt
… een zwaar vleesras wel 120/145 kilo kan wegen
… een schaap wel 20 jaar kan worden
… een schaap op zo'n leeftijd zijn tanden en kiezen verliest waardoor hij niet goed meer kan eten
… er 13 Nederlandse schapenrassen zijn, de texelaar, de blauwe texelaar, de noord hollander, de swifter, de flevolander, het zeeuws melkschaap, het fries melkschaap, de zwartbles, het drents heideschaap, de schoonebeeker heideschaap, de mergellander, het veluws heideschaap en het kempisch heideschaap.
Maak een Gratis Website met JouwWeb