SPINNEN

Inleiding
Spinnen zijn nuttige dieren,want ze ruimen veel insecten op. Spinnen maken draden, daar maken ze een web van of ze laten de insecten erover struikelen.
Spinnen hebben 8 ogen maar kunnen niet goed zien.Vooral de vrouwtjes kunnen niet goed zien.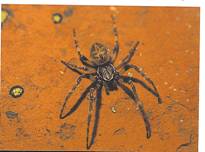 Hier zie je de huisspin Tegenaria

1. Paren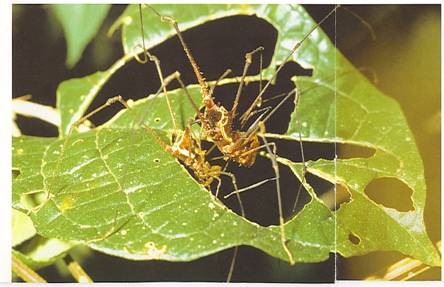 Het mannetje gebruikt palpen om te paren, dat zijn voelsprieten bij zijn mond. Bij het mannetje zijn die aan de bovenkant verdikt. Als het mannetje een vrouwtje heeft gezien waar hij wel mee wil paren maakt hij een klein driehoekig web. Uit zijn achterlijf komt dan sperma,dat legt hij op het webje. Met zijn palpen zuigt hij dat dan op net zo lang tot zijn palpen vol zitten. Zo gaat hij naar het vrouwtje. Dan gaan ze paren als het vrouwtje dat ook wil. Het paren gaat zo: het mannetje steekt één palp in een gaatje in de buik van het vrouwtje, zo pompt hij het sperma erin als hij daar mee klaar is doet hij precies hetzelfde met de andere palp.
Hier zie je 2 parende spinnen

2. Babyspinnen
Spinnen leggen eitjes, als ze dat dan gaan doen, doen ze dat in een extra dik spinnenweb. Ze leggen tussen de 100 en 200 eitjes per keer. Die leggen ze allemaal op het web daar maken ze een grote bol van, dat noemen we een eipakket. Het duurt ongeveer twee maanden voor dat het eipakket opengaat. Twee weken voordat het opengaat komen de babyspinnen al uit hun ei maar nog niet uit het eipakket. Ze zijn dan nog wit en dat betekent dat ze nog geen voedsel nodig hebben.Als na ongeveer twee weken elke babyspin klaar is om uit het eipakket te komen, knagen ze het eipakket open.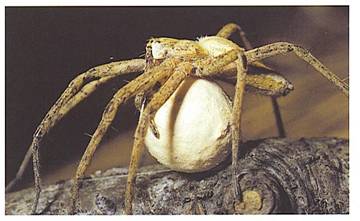 De wolfspin draagt het ei met haar mee.

3. Opvoeding
Spinnen worden niet meteen opgevoed. Als ze uit het eipakket komen zien ze hun moeder niet meer terug, dat is een groot nadeel want veel babyspinnen overleven het daarom niet. Er zijn veel hagedissen,vogels en andere grote spinnen die babyspinnen heerlijk vinden. De spin zal nooit uitsterven omdat een spin 12 keer in zijn hele leven een eipakket legt, dat zijn dus 1200 tot 2400 spinnen per spinnenleven.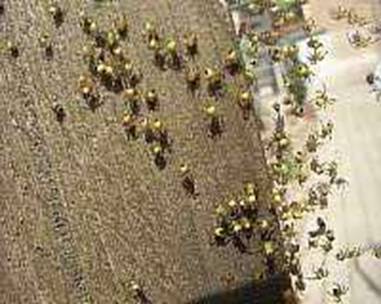 Hier zie je heel veel babyspinnen.

4. Lichaamsbouw
Een spin bestaat uit twee delen: een kopborststuk en een achterlijf. Het achterlijf zit met een dun steeltje aan het kopborststuk vast. Aan het kopborststuk zitten poten, ogen en kaken vast. Ook hebben ze palpen die zitten aan de mond vast. Daar paren ze niet alleen mee daar voelen ze ook nog mee.
Spinnen hebben acht poten, het zijn eigenlijk zeven losse stukjes die met een soort touwtje aan elkaar vast zitten vandaar dat de poten zo soepel zijn. De poten zijn meestal bedekt met stekels en haren. Daar kunnen ze mee voelen en ruiken.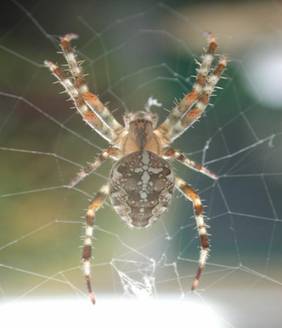 Hier zie je een duidelijk plaatje waar je goed naar de lichaamsdelen van de spin kunt kijken.
5. Vervellen

Spinnen hebben geen skelet. Hun huid is gemaakt van chitine, daar zijn onze nagels en haren ook van gemaakt. Een chitinehuid groeit niet mee dus daarom gaan ze soms vervellen. Die oude velletjes kun je vaak tussen het gras of in de vensterbank zien liggen. De nieuwe huid van de spin is iets groter.Je kunt niet zeggen hoe vaak de spin gaat vervellen dat ligt er gewoon aan hoe groot de spin wordt.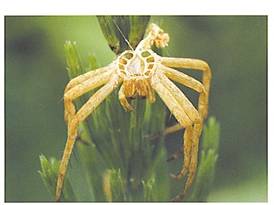 Hier zie je een velletje van de spin.

6. Soorten spinnen
Er zijn twee groepen spinnen, spinnen die een web maken om hun prooi te vangen en de spinnen die dat niet doen. De groep die webben maakt heet de webspin, de kruisspin is bijvoorbeeld een webspin. Maar de huisspin hoort bij de andere groep dat zijn de jachtspinnen die moeten gewoon zonder web hun prooi vangen. Er zijn veel soorten jachtspinnen, bijvoorbeeld de zebraspin die loopt op een muurtje, als hij dan een lekker beestje ziet springt hij er bovenop.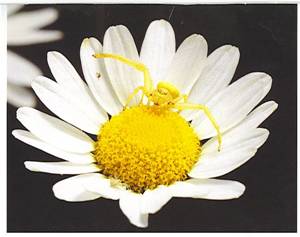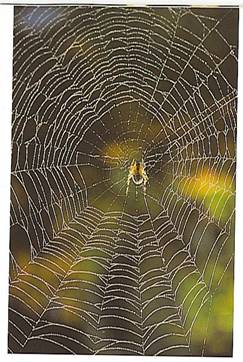 Hier zie je een gele krabspin hij verstopt Hier zie je een kruisspin in zijn web.
zich tussen bloemen zodat hij niet opvalt.

7.Voeding
Spinnen leven van vlees, bijvoorbeeld van kleine insecten of andere spinnen.Maar vogelspinnen eten ook muizen, vogels en kleine slangen. Spinnen kunnen niet kauwen dus daarom zuigen ze hun prooi leeg. Maar daarvoor moet hun prooi eerst vochtig zijn. Dat doen ze met hun gifkaken. Ze bijten en dan wordt het beest van binnen lek geprikt en dan is het ook meteen dood.
Je kunt in een spinnenweb ook een leeggezogen insecten vinden.
Hier zie je gifkaken, je hoeft zelf niet bang te zijn voor gifkaken want een grote kruisspin komt nog niet eens door je huid heen.
Dit was mijn werkstuk.
Maak jouw eigen website met JouwWeb