1.Inleiding
Ik houd mijn spreekbeurt over ''De tijger." De tijger behoort tot de katachtigen en het is een zoogdier.
2.Soorten
Er zijn meerdere soorten tijgers, sommige zijn al uitgestorven, sommige leven nog. Ik zal de soorten tijgers die nog leven even op een rijtje zetten:
- De Siberische tijger van deze tijger leven er nog zo'n 1000 van.
- De Sumatraanse tijger van deze tijger leven er nog maar 300 van.
- De Chinese tijger van deze tijger leven er nog zo'n 50 van.
- En de Bengaalse tijger daar leven er nog zo'n 300 van.
Ik ga over 3 van deze vier soorten wat vertellen.
---
De Siberische tijger
Deze soort is het bekendst en ook meteen het populairst van alle tijgersoorten. Hij heeft een geel-bruine vacht met zwarte strepen.
De Sumatraanse tijger
Deze soort is een stuk kleiner dan de Siberische tijger. Door de jacht op deze soort is deze tijger erg zeldzaam geworden. De Sumatraanse tijger is afkomstig van Indonesië, ze kunnen tot 1 meter vijftig worden dat is dus vrij klein voor een tijger.
De Bengaalse tijger
Deze soort wordt tot 15 jaar oud, ze worden ongeveer 180 tot 260 kilo zwaar.
Dit waren drie stukjes over verschillende soorten tijgers.
---
3.Voedsel
Tijgers zijn carnivoren, carnivoren betekent dat het vleeseters zijn. De tijger houdt vooral van hoefdieren zoals:
Antilopes, herten, wilde zwijnen, zebra's, gazelle's enz. enz. De tijger houdt toch het meeste van Herten, wilde zwijnen en zebra's. Af en toe vinden ze apen ook wel lekker. Tijgers houden niet alleen van hoefdieren, kleinere dieren vinden ze ook lekker want kikkers, vogels en vissen zijn ook welkom bij de tijger. De tijger jaagt nooit overdag alleen 's nachts. Dat is slim van ze want tijgers kunnen geluidloos rondsluipen en daardoor heeft de prooi vaak niet door dat er een tijger op hem jaagt. Een tijger verstopt zich dan vaak achter bomen of achter een struik en wacht dan het goede moment af. Als het dan zover is springt hij achter de boom of struik vandaan en vangt zijn prooi. Tijgers jagen nooit op open velden want daar is de prooi hem te snel af. Tijgers vallen bijna nooit mensen aan, maar toch moet je altijd goed op je hoede zijn.
4.De voortplanting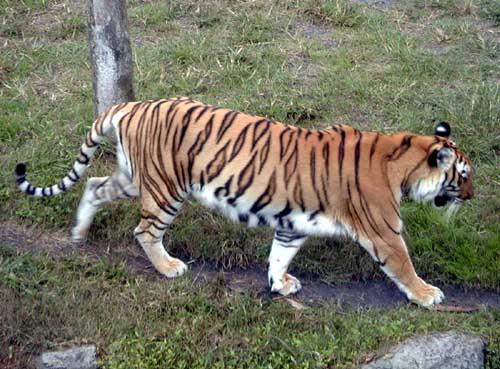 Tijgers krijgen per nest zo'n 1 tot 5 jongen. Het dragen van de jongen duurt 93 tot 114 dagen. Tijgers leven ongeveer ± 20 jaar. Als de jongen geboren worden wegen ze tussen de 790 en 1610 gram. De oogjes van de jongen zijn nog dicht en gaan pas na ongeveer 7 dagen open. De tijger zoogt de jongen 5 maanden lang en daarna gaat de moeder met de jongen op jacht en ze leert de jongen hoe je moet jagen. Na 3 a 5 jaar zijn de tijgers echt volwassen en kunnen ze zelf weer jongen krijgen.
5.Bedreigingen
De tijger wordt bedreigd. Er is maar 1 vijand maar dan wel gelijk de ergste en dat is de mens! De mens jaagt op de tijger en daardoor sterft de tijger langzaam uit. Er zijn al veel soorten uitgestorven. De mens jaagt voor zijn ogen, en snorharen. Maar er wordt natuurlijk voornamelijk gejaagd voor zijn mooie tijgerpels. Deze vacht is al snel 26.000 euro waard. Daar verdienen de stropers dus veel geld mee. De tijger is nu wel een beschermde diersoort maar toch word dit dier nog veel bedreigd. Tijgers worden ook nog op een andere manier bedreigd door de mens. Doordat de mens de oerbossen kapt voor meer wegen kan de tijger niet meer leven omdat hij dan geen geschikt leefgebied heeft. Als het bedreigen van de tijger nog lang doorgaat zeggen ze dat in 2006 alle tijgers uitgestorven zullen zijn. Dat zou niet leuk zijn want het zijn erg mooie dieren.
6.Grote katachtigen
Tijgers zijn grote katachtigen roofdieren uit Azië. Hun vacht is meestal geel-bruin. Ze zijn de grootste katachtigen van alle katachtigen. Sommige tijgers leven in warme streken, sommige ook weer in koude streken. Aan tijgers kun je goed zien dat ze bij de katachtigen horen. Je kunt het zien aan hun vorm, oren, snorharen en aan hun snoet maar ook aan hun ogen.
7.De leefgebieden van de tijger
De tijger hoort voornamelijk thuis in Azië. In Azië is hij te vinden in dichte naaldbossen maar ook in de bamboewouden van China. Ze leven ook graag in de tropische oerwouden van Azië. De tijger stelt geen hoge eisen aan zijn leefomgeving als er maar genoeg water in de buurt is en dat er genoeg prooi is. In Rusland komen tijgers zo af en toe nog voor, maar niet veel meer.
Dit was mijn spreekbeurt

Maak jouw eigen website met

JouwWeb