De Vlaamse Gaai

Hallo allemaal, ik doe mijn spreekbeurt over de Vlaamse Gaai. Ik doe het over de Vlaamse gaai omdat er bij ons ook Vlaamse gaaien in de tuin zitten.
---
1. De Vlaamse Gaai
Door de mooie kleuren valt de Vlaamse Gaai goed op. Bovendien hoor je zijn geschreeuw van ver. Als je een Vlaamse Gaai vergelijkt met een duif zijn ze even groot alleen de kop van de Vlaamse Gaai is veel dikker.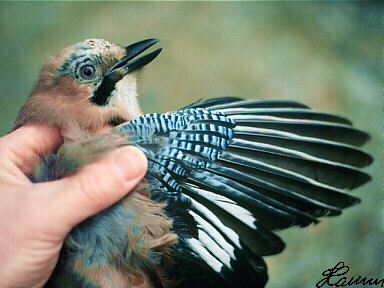 Hier naast staat een afbeelding van de Vlaamse Gaai. Je ziet vooral dat hij een bruin-roze kleur heeft. Op allebei de vleugels heeft hij twee vlekken. De ene vlek is fel wit en de andere vlek heeft kleine witte, zwarte en blauwe streepjes. Dat zijn de dekveren.
De zwarte staart op het witte achterlijf valt goed op. Op zijn keel onder zijn snavel heeft hij nog een witte vlek. Boven op zijn kop is hij wat lichter van kleur. Maar daar zitten weer allemaal kleine donkere streepjes. Als een Vlaamse Gaai kwaad wordt, zet hij de veren van zijn kop rechtop. Dan krijgt hij een soort kuifje. Dat ziet er geinig uit. Een Vlaamse gaai kan er ook heel deftig uitzien. Dat komt door de dikke zwarte strepen naast zijn snavel. Nu lijkt het net of hij een snor heeft.
Maar soms zijn Vlaamse Gaaien ook erg vervelend.
(verhaal vertellen van de bonen van Opa die opgegeten werden door de Vlaamse Gaaien)
Het mannetje en het vrouwtje zien er precies hetzelfde uit. Dat is bij de meeste andere vogels niet zo, meestal heeft het mannetje mooiere veren. De jonge Vlaamse Gaaien lijken heel erg op hun vader en moeder.
---
2. Familie
In ons land leeft maar één soort gaai. De Vlaamse Gaai. In het zuiden van Amerika leeft ook nog de Amerikaanse Blauwe Gaai.
De Vlaamse gaai hoort bij de kraaien familie. Net zoals Zwarte Kraaien, de Kauw en de Ekster. Dat zou je niet zo snel zeggen. Hij is een kleurig buitenstaandertje in die zwarte familie. Maar als de Vlaamse Gaai vliegt kun je wel zien dat hij bij de familie hoort, hij vliegt erg slordig, net zo als de Ekster. Alsof hij niet kan vliegen. Op de grond hipt hij meestal rond. Dat zie je bij de Ekster ook. Met zijn streken past hij ook wel bij de familie. Hij steelt ook nog wel eens eieren uit een nest van andere vogels. De Vlaamse Gaai is wel banger dan zijn familie.
3. Eten
De Vlaamse gaai vindt eikels het lekkerst. Op sommige plaatsen in ons land noemt men hem daarom ook wel eikel-ekster. In de herfst liggen de eikels op de grond. Dan kan de Vlaamse Gaai er lekker van eten. Maar hij moet ook eikels verzamelen voor de wintervoorraad. De Vlaamse gaai lust nog veel meer. Bessen en andere vruchten uit het bos vindt hij ook lekker. Insecten eet hij ook. En heel soms eet hij ook jonge vogeltjes. De Vlaamse Gaai is dus een alleseter.
4. een echte kletskous
De Vlaamse Gaai kan de liedjes van verschillende vogels nadoen. Die liedjes heeft hij geleerd van de andere vogels. Hij kan ze heel goed nadoen. Je hoort bijvoorbeeld het geluid van de merel, de koolmees en de buizerd. Er komt geen einde aan. Je zou haast denken dat die vogels echt bij je in de buurt zitten. Maar als je daarna ook nog een geit hoort mekkeren heb je wel door dat je voor de gek word gehouden.
Stel je voor. Een man laat elke dag zijn hond uit in het park. Als hij weer naar huis wilde floot hij op zijn vingers. De hond kwam dan meteen aangerend. Hij herkende het fluitje, want de man floot elke dag hetzelfde. Op een morgen liep de man weer in het park. Plotseling hoorde hij zijn eigen fluitje. Een Vlaamse gaai had het geleerd en floot hem na.
---
De Vlaamse Gaai heeft ook een heel deftige Latijnse naam: GARRULUS GLANDARIUS. Dat betekent kletskous van de eikels. In het voorjaar zingt de Vlaamse Gaai zijn eigen liedje. Vooral als er meer Gaaien in de buurt zijn. Soms zitten er een stuk of 10 Vlaamse Gaaien elkaar achterna. Van tak tot tak en van boom tot boom. Ondertussen zingen de mannetjes een zacht trillend liedje. Je zou haast niet geloven dat die druktemakers zo mooi konden zingen.
5. Het broeden
In april is het tijd om een nest te bouwen. Het mannetje en het vrouwtje vliegen de hele tijd heen en weer met takjes in hun snavel. Met die takjes vlechten ze een nest in elkaar. Met een beetje aarde smeren ze de gaten dicht. Soms zit een nest maar 2 meter hoog in een boom maar het kan ook veel hoger zitten. De binnenkant van het kleine nest wordt zacht gemaakt met dor gras, mos, haren en wortels van planten. Als het nest helemaal af is gaat het vrouwtje er in zitten en legt een stuk of 6 eieren. Ze doet er een paar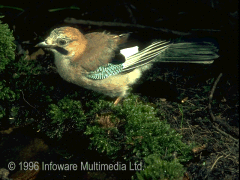 dagen over. De eieren hebben een groengrijze kleur. Ze zitten vol bruine spikkeltjes. Niet alleen het vrouwtje zit op de eieren, ook het mannetje zit er op. Ze broeden om beurten. Wie niet op het nest zit, gaat eten zoeken.
In de eieren groeien langzaam maar zeker de jonge vogeltjes. Na ongeveer 16 dagen zijn ze zo groot dat ze uit het ei willen. Maar voor hen is de eierschaal erg hard. Dan komt de knobbel op de snavel goed van pas. Die knobbel noemt men: de ei-tand. Die hebben de jonge vogeltjes nodig om de harde schaal kapot te tikken. Als de jongen eindelijk uit het ei zijn gekropen is die tand niet meer nodig. Na een poosje valt hij er dan vanzelf af.
De jonge vogeltjes zijn nog maar kale, hulpeloze beestjes. Het zijn nestblijvers. Ze moeten eerst nog flink groeien. En net zulke mooie veren krijgen bals hun ouders. Dan mogen ze pas het nest uit. Andere vogels of eenden die al heel snel na hun geboorte het nest uit gaan worden ze nestvlieders genoemd.
6. Groeien
Als de jongen uit de eieren komen moeten ze goed en veel eten. En dat doen ze ook. Kort nadat de kleine Gaaien uit de eieren komen steken ze hun kopjes omhoog en doen hun snaveltjes open. Ze kunnen nog niet zien, als het nest begint te trillen weten ze dat hun ouders in de buurt zijn en beginnen te piepen. Na een paar dagen gaan de oogjes open. De jongen groeien maar door en door en hebben meer en groot voedsel nodig. De ouders kijken zelfs in nesten van andere vogels. Ze slurpen de eieren leeg en eten de jonge vogeltjes op. Zelfs jongen die al vliegen zijn niet veilig voor deze rovers. Na ongeveer 3 weken zijn de kleine Gaaien zo groot dat ze kunnen vliegen, ze hebben al een beetje geoefend in het nest, maar in de lucht is toch moeilijker. Ze proberen en proberen. Na een tijdje lukt het, en doen alsof ze het allang konden. Als de jongen na een paar maanden bij hun ouders weggaan kunnen ze helemaal voor zichzelf zorgen.
---
7. Een mierenbad
De Vlaamse Gaai is zuinig op zijn veren. Ze moeten altijd netjes glad op zijn lijf liggen en schoon zijn. Als hij tijd heeft is hij met zijn veren bezig. Hij trekt ze omstebeurt door zijn snavel heen. Als er een veer schoon is, legt hij hem op de goede plaats terug. Met zijn poten kamt hij de veren op zijn kop. De Vlaamse Gaai heeft soms last van veerluizen. Daar heeft hij een middeltje voor: mierenzuur. Hij houdt met zijn snavel een dikke mier tussen zijn veren. De mier wil zich verdedigen en spuit mierenzuur uit zijn achterlijfje naar de vogel. De grote gaai merkt er haast niets van. Maar de veerluis kan er niet tegen en gaat dood. Als de mier gedaan heeft wat hij moest doen, wordt hij opgegeten. Als de Vlaamse Gaai een mierenbad wil nemen, gaat hij op een mierenhoop zitten en zet zijn vleugels uit. Heel veel mieren spuiten tegelijk mierenzuur, daar kan geen veerluis tegen.
8. Een schadelijke vogel?
Soms eet een Vlaamse Gaai eieren of jongen vogeltjes, veel mensen noemen hem daarom een moordenaar, nestplunderaar of een struikrover. Het is geen leuk gezicht hoe zo een klein vogeltje in de snavel van die grote vogel verdwijnt. Maar zo gaat dat in de natuur. Zangvogels eten insecten, de Vlaamse Gaai eet zangvogeltjes en de havik eet weer Vlaamse Gaaien. Dit noem je een voedselketen. De natuur zorgt er dan zelf voor dat er van sommige dieren niet te veel komen. Dus we hoeven helemaal niet boos te zijn op die Vlaamse Gaai. Want hij doet ook mee in die voedselketen. Alle zangvogels zijn niet meteen verdwenen in het bos waar de Vlaamse Gaai leeft. Zoveel eet hij er niet. Hij haalt alleen in de broedtijd wel eens een nest leeg. En meestal broeden zangvogels dan nog wel een keer. En zo zijn er nog steeds genoeg zangvogels.
9. Een nuttige vogel!
De Vlaamse Gaai doet ook heel nuttig werk. Hij zorgt er voor dat er nieuwe eikenbomen bij komen. Voor de winter of voor het vroege voorjaar verzamelt de Vlaamse Gaai in de herfst eikels. Hij vliegt naar een plek waar veel eikels liggen en neemt er een stuk of acht in zijn keel mee. Zijn keel komt helemaal bol te staan. Eén eikel houdt hij nog in zijn snavel vast. Dan vliegt hij terug naar zijn eigen gebied. Meestal laat hij ook nog wel eens een eikel vallen op de grond. Soms komt er dan na een paar jaar een eikenboom te voorschijn. Maar de meeste eikels komen goed over. Hij stop ze overal in de grond zodat hij overal voorraadjes heeft. Later weet hij de meeste weer terug te vinden. Dat is heel knap want alle plekjes in het bos lijken op elkaar. Hij graaft de eikels weer op als hij ze nodig heeft. Hij heeft niet alle eikels nodig zodat er uit de eikels die in de grond blijven zitten ook weer nieuwe eikenboompjes komen. Eigenlijk zorgt hij ook weer voor zichzelf want aan deze bomen komen ook weer eikels die hij kan begraven voor zijn wintervoorraad.
Dit was mijn spreekbeurt over de Vlaamse Gaai.
Maak jouw eigen website met JouwWeb