Het vogelbekdier
1. Het vogelbekdier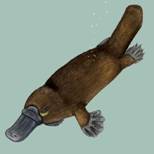 Het vogelbekdier is een heel eigenaardig dier. Het heeft de kenmerken van 3 andere dieren: de snavel van een eend, het lijf van een mol en de staart van een bever. Het vogelbekdier is een ZOOGDIER, maar legt eieren zoals een vogel. De eieren zijn ongeveer zo groot als een vingernagel en blauw/geel/wit van kleur. Wanneer de jongen uit het ei zijn, worden ze gezoogd door de moeder. Een vogelbekdier leeft in de rivieren van Australië en Tasmanië en het is 60cm lang, weegt 1 à 2 kilogram en wordt gemiddeld 5 jaar oud. Het heeft een bruine vacht met een goudkleurige buik.
2. Wat eet hij zoal?
Het is een gulzig dier dat per nacht ongeveer 1 kilogram eet. Hij voedt zich vooral met dierlijk voedsel. Behalve wormen en kikkers, eten deze snaveldieren ook kreeftjes, garnalen, kikkerdril, waterinsecten, waterslakken, … alles wat ze in en rond de rivier vinden.
3. Hoe ziet een vogelbekdier er uit?
De snavel is rubberachtig en soepel, niet zo hard als de snavel van een eend. Met de snavel zoekt het vogelbekdier naar voedsel tussen de rotsen en de kiezelstenen.
Vogelbekdieren zijn vooral 's avonds en 's nachts actief. Dan zoeken ze voedsel en overdag slapen ze in hun holen.
4. Woonplaats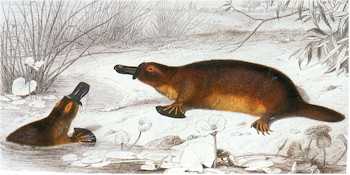 Het vogelbekdier woont in holen die hij graaft, in de oevers van rivieren of meren. De tunnels kunnen wel 30 meter lang zijn.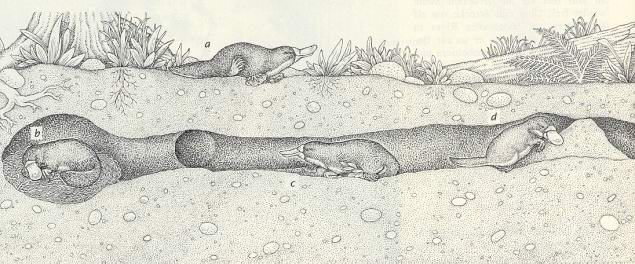 5. Rovers
Het vogelbekdier moet zich op het land beschermen tegen roofvogels zoals de havik, de adelaar en de uil. Waterslangen en waterratten vallen de jongen aan in het nest. Om zich te beschermen maakt het VBD verschillende dammen in de tunnels naar het hol. Deze dammen zijn ongeveer 15cm hoog die hij stevig aanklopt met zijn staart. Een indringer zal proberen de eerste dam te doorbreken, maar geeft het daarna vaak op.
6. Gifpunten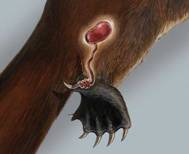 1) Het vogelbekdier is het enige Australische zoogdier dat giftig is. Volwassen mannetjes hebben op de achterpoten een angel van ongeveer 1,5 cm lang die verbonden is met een gifklier. De mannetjes gebruiken deze gifpunten vooral in de paartijd tijdens hun gevechten met andere mannetjes om een vrouwtje.
2) Toen er vroeger nog gejaagd werd op vogelbekdieren werd er ook wel eens een jachthond gedood. Het gif is niet gevaarlijk voor mensen. Het is wel zeer pijnlijk als je gestoken wordt door een vogelbekdier. Het word na een tijdje een grote zwelling. Je kan het vergelijken met een bijensteek maar dan veel ernstiger.
7. De jongen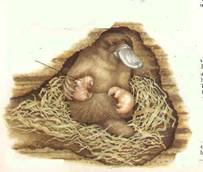 1) In de paartijd slapen mannetje en vrouwtje apart: het vrouwtje nestelt zich in een privé-hol, waar ze zal baren en haar jongen zal grootbrengen. De eieren, die ze legt, mogen niet uitdrogen. Daarom is het belangrijk dat er natte bladeren worden aangebracht, om de eieren te bedekken.
2) Een vogelbekdier legt meestal 2 à 3 eieren, die rubberachtig aanvoelen, net zoals bij reptielen. Die worden warm gehouden door het wollige lijf van het vrouwtje. Als de jongen een dag of 10 oud zijn, is het tijd om uit het ei te komen. Al die tijd eet de moeder niet en heeft ze de opdracht om het hol vochtig te houden.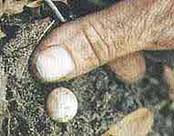 3) Een pasgeboren jong is niet veel groter dan de nagel van je vinger. De kleintjes beginnen al gauw de melk op te likken, die uit de vacht komt. Want een vogelbekdier heeft geen tepels: de moedermelk komt gewoon uit de poriën.
Na 16 weken kunnen de jongen zwemmen en zelf op zoek gaan naar voedsel. De moeder zal de jongen nog 6 weken zogen en beschermen.
Maak jouw eigen website met JouwWeb