De geschiedenis van de wolf:
De wolf is, zoals de meeste van jullie zullen weten, de voorouder van de hond. Eeuwenlang is de wolf als een gruwelijk moordend wezen beschouwd omdat het zogezegd honderden mensen had gedood. Maar toen ze het dier gevangen hadden, bleek dat de wolf leed aan hondsdolheid! Dus als je een wolf ziet weet je dat hij je niet direct zal vermoorden. De Latijnse naam van de wolf is Canis Lupus. Dat wil zeggen "grijze wolf" letterlijk vertaald.
Hij is zo ruim 200.000 jaar oud.(niet één wolf want die worden maar 15 jaar)
Uiterlijk:
Een wolf verhaart een maal per jaar. Aan het einde van de lente valt het dikke winterhaar in plukken van het dier af. Het nieuwe haar voor in de zomer is in de zomer zelf kort, maar het blijft groeien tot in de lente en dan valt het er terug af. Overal kan je wolven vinden met een vacht die tussen sneeuwwit en gitzwart zit hoewel de meeste wolven overwegend grijs zijn.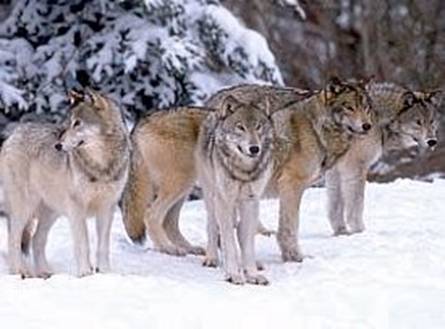 De wolven zien er heel intelligent uit door hun rechtstaande oren, spitse snuit en oplettende blik in hun ogen. De kop van een wolf lijkt heel veel op die van een Duitse Herdershond maar de schedel is breder. Ze hebben ook een soort van bakkebaard onder hun oren.
De lange dikke staart is heel belangrijk voor de wolf. Hij houdt met die staart tijdens koude nachten, zijn neus warm en zorgt ervoor dat de warme lucht niet zomaar uit de longen verdwijnt maar eerst nog de pootjes verwarmt.
Het gebit bestaat uit 42 tanden waaronder hoektanden van 2.5cm lang, die sterk, scherp en een beetje gekromd zijn zodat de prooi niet uit zijn mond kan ontsnappen. De wolf kauwt niet op zijn prooi maar scheurt het vlees in brokken en slikt het zo door.
Hun poten zijn lang en lenig. Gewoonlijk lopen ze op hun tochten met een gemiddelde snelheid tussen 12 en 16 km per uur. Ze kunnen dat uren achtereen volhouden. Wolven kunnen in 1 nacht tijd wel 100 km afleggen. Ook zijn er al snelheden opgemeten van 60 km per uur.
Een wolf heeft een schouderhoogte van 68 tot 78cm.
Hoe overleeft de wolf?
Als de wolven honger hebben, komen zij uit hun hol onder de sneeuw vandaan. Hoe hongerig ze ook zijn, ze zijn altijd heel blij mekaar terug te zien en springen in het rond om mekaar te begroeten. Deze begroeting gebeurt volgens de rangorde van de roedel (een groep wolven).
De kleine wolfjes steken hun staart tussen hun poten en likken de snuit van de volwassen wolven. De grote wolven likken dan op hun beurt de kleintjes en houden hun staart omhoog.
De jacht.
De mannetjes gaan op jacht, het vrouwtje loopt hem achterna om de prooi mee te verscheuren . Meestal jagen ze op grote dieren zoals bizons of muskusossen. Ze zoeken hun prooien altijd tegen de wind in, zodat de geur naar hun toe komt, Zo kunnen ze 3 km ver ruiken, maar ook omdat anders de prooi de wolf zelf kan ruiken. Hij heeft 3 jachtmethoden:
1. doorlopen tot ze een prooi tegenkomen
2. de geur volgen volgens de windrichting
3. de geur volgen van sporen of lichaamsgeur op de grond.
Wolven zijn nachtdieren die de warmte van de dag vermijden en meestal 's avonds jagen. Wanneer wolven een prooi naderen, bijt de wolf die dichtbij genoeg is, in een poot of in een zij van het dier. De baas van de groep, het alfamannetje, probeert dan in de neus van het dier te bijten om het tegen te houden terwijl de groep aanvalt. De dominante wolven eten eerst. Bij een grote prooi blijven de wolven in de buurt van het kadaver tot alle eetbare delen opgegeten zijn.
Communicatie
Een wolf communiceert voor een groot deel door gezichtsuitdrukkingen. Wanneer hij kwaad is, trek hij zijn lip op en laat zijn hoektanden zien en zet zijn oren rechtop.
Huilen is een tweede manier om te communiceren. en is dikwijls een teken van blijdschap. Als een groep wolven huilt, beginnen ze bij laag en gaan altijd maar hoger en hoger huilen. Ze huilen ook om hun groep bijeen te houden, om te laten horen in gedeelde gebieden waar ze zich bevinden en soms ook gewoon voor hun plezier. Elke wolf huilt op zijn manier.
Territorium
Elk roedel heeft een eigen territorium. Het gebied wordt afgebakend door geurvlaggen, zoals een corner paal. Ze plassen tegen een boom en schrapen krachtig met hun poten over de grond. De lange diepe krabmerken die zo ontstaan, vormen een zichtbare markering. Dit doen de gewone huishonden ook heel vaak. Soms laten volwassen wolven toe dat hun kroost een eigen roedel sticht binnen hun terrein. Maar dikwijls zijn de jonge wolven verplicht om als koppel naar een nieuw gebied te trekken. Een territorium is de jachtplaats van een roedel. Het territorium van de wolf is ongeveer 25 tot ruim 400 km². Het verandert bijna elk seizoen omdat de prooien wegtrekken of gewoon vanwege de weersomstandigheden. Wolven huilen om te voorkomen dat andere roedels hun territorium binnen dringen. Dit is een natuurlijk hulpmiddel om de vrede tussen de groepen te bewaren.
- Wolven maken over het algemeen geen hol, ze slapen het hele jaar buiten en gebruiken een hol alleen voor hun jongen (welpen).
- Welpjes hebben bij hun geboorte blauwe ogen. Als ze ongeveer 28 dagen oud worden ze geel.
- Een jonge wolf likt de snuit van een volwassen dier om deze te verleiden het eten van de jacht terug op te braken. Volwassen wolven nemen het voedsel voor de welpjes in hun maag mee terug.
- De manenwolf is eigenlijk geen wolf maar een soort reuzenvos. Hij heeft een schofthoogte van 70 cm en enorme lange poten.
- Wolven drinken niet door te zuigen, zoals wij doen. In plaats daarvan lebberen ze water op met hun tong, net zoals de hond.
- Bij warm weer hijgen ze om zoveel mogelijk lichaamswarmte af te staan. De tong die uit hun bek hangt, zorgt ervoor dat het bloed wordt afgekoeld.
- Wolven gaan meestal alleen in het water om te spelen en naar de opspattende druppeltjes te kijken. In de zomer natuurlijk ook om af te koelen.
- Wolven hebben niet veel natuurlijke vijanden. Alleen de welpjes tot 6 weken oud, kunnen door een vogel (steenarend) geroofd worden.
Nawoord
De houding van mensen ten opzichte van de wolf is de laatste jaren enorm verbeterd. De wolf is een symbool voor de wildernis: hij kan alleen leven en overleven in een natuurlijke omgeving. Hij leeft in harmonie met zijn prooidieren en zal zijn voedselbron nooit uitputten. Zo is de wolf een barometer voor de gezondheid van het milieu. Daarom is het heel belangrijk dat iedereen mee zorg draagt voor de natuur, want als die verdwijnt, verdwijnt ook de wolf.
Zijn er nog vragen?
Maak jouw eigen website met JouwWeb