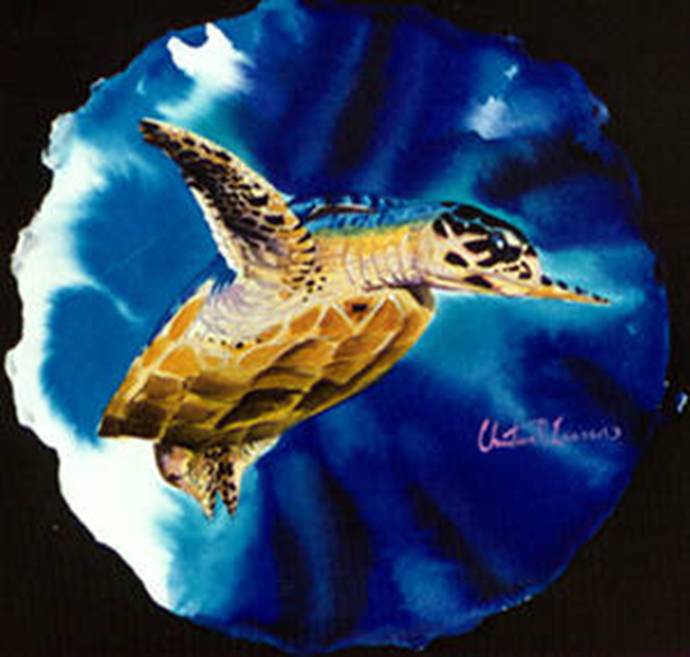 Inhoudsopgave
1. Waarom heb ik dit dier gekozen?
2. Soorten
3. Hoe ziet het dier eruit
4. Voortplanting
5. Leefgebied
6. Voedsel
7. Bronnen
1. Waarom heb ik dit dier gekozen?
Ik heb dit dier gekozen omdat ik het een bijzonder dier vindt. Ze zien er ook leuk en grappig uit. Ik wilde ook meer over dit dier te weten komen. Het is een beschermd dier geworden omdat er veel wordt gejaagd op de zeeschildpad, meestal alleen om soep van hem te maken. Ik vindt dit zielig voor deze dieren, want sommige soorten zijn bijna uitgestorven. Ik wil er dus graag over vertellen.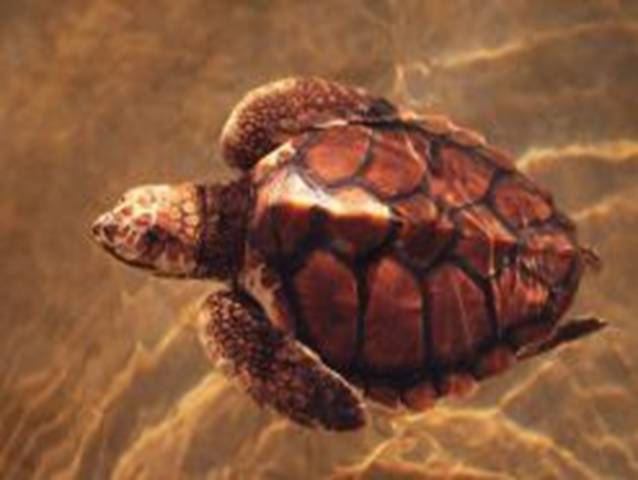 2. Soorten
Iedere soort heeft zijn eigen kenmerken. Er zijn 7 soorten zeeschildpadden.
Groene Zeeschildpad: De enige die alleen planten eet. Alleen de baby's eten wel een soort vlees.
Lederschildpad: Dit is de allergrootste zeeschildpad. Hij is bijna 3 meter lang en heeft geen rug-en buikschild.
Karetschildpad: Deze eet sponzen, er is bijna geen ander dier die dat doet.
Dikkopschildpad: Heeft enorm sterke kaken en een hele dikke kop, die dikke kop komt door de kaken.
Platrugschildpad: Komt alleen in de buurt van Australië voor. Zijn schild is erg dun, je kunt er zonder moeite met je nagel doorheen prikken.
Kemps Zeeschildpad: Dit is de zeldzaamste van allemaal. Ze leggen bijna allemaal hun eieren op een strand in Mexico.
Warana: Om eieren te leggen komen de Warana's allemaal tegelijk het strand op, alsof ze het hebben afgesproken.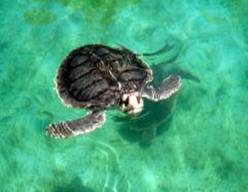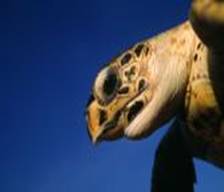 De Kemps Zeeschildpad. De Dikkopschildpad
3. Hoe ziet het dier eruit ?
De zeeschildpad heeft een bijzonder lichaam. Gebouwd voor een leven in zee, maar ook een beetje voor op het land. Hier meer over zijn buikschild zijn rugschild en alles wat er tussenin zit.
Neus: Kan boven en onder water goed ruiken. Door zijn neus ademt hij ook.
Ogen: Ziet onder water beter dan boven water. Ogen die het boven en onder water goed doen bestaan niet.
Oren: De oren zitten onder de huid, maar kan er wel goed mee horen. Net als dolfijnen, vissen en veel andere zeedieren.
Mond: Heeft geen tanden maar een scherpe rand, het lijkt wel een beetje op een snavel.
Kop en poten: Een zeeschildpad kan zijn kop en poten niet intrekken zoals een landschildpad dat doet.
Buikschild: zijn buikschild is minder stevig dan zijn rugschild.
Achterpoten: deze zijn om mee te sturen. Bij de vrouwtjes ook om een kuil mee te graven, voor haar eieren.
Rugschild: Nogal een plat rugschild: dat is voor de stroomlijn. Het is niet zo stevig als bij een landschildpad.
Voorpoten: Zijn voorpoten zijn zo plat als een roeispaan of als een vleugel, want het lijkt net alsof hij onder water vliegt. Ook heeft hij een klauwtje aan zijn duim.
Bij mannetjes is dat groter: Hiermee houdt hij zich aan het vrouwtje vast bij de paring.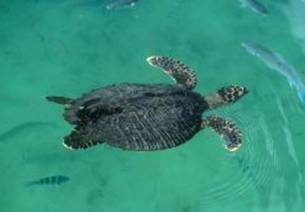 4. De voortplanting
Af en toe reizen de zeeschildpadden naar de plek waar ze geboren zijn. Daar paren de mannetjes en vrouwtjes en leggen de vrouwtjes eieren. Na een lange reis komen ze bij de plek waar ze geboren zijn. Om met een vrouwtje te paren moeten sommige mannetjes soms knokken. Bij de paring klautert de man op de rug van het vrouwtje en houdt zich vast met zijn flippers en zijn staart. Het vrouwtje zwemt zo een paar uur rond met die man op haar rug.Daarna gaat ieder weer een eigen weg. Een paar weken later krijgt ze de kriebels, ze moet haar eieren kwijt! 's Nachts gaat ze het strand op, dat is niet niks voor een zeedier met zwempoten. Dat kost veel moeite, maar het lukt wel. Als ze het niet vertrouwt gaat ze weg en probeert het een andere keer. Boven aan het strand gaat ze graven, eerst met haar voorflippers. Ze gooit het zand opzij en graaft een ondiepe kuil waar haar hele lichaam in past. Daarna graaft ze met haar achterpoten een smalle diepe kuil. Dat is een flinke klus!!! Daarna floepen haar eieren, die veel op pingpongballetjes lijken, in de kuil. Alles bij elkaar een stuk of vijftig, maar bij sommige soorten meer dan honderd. Na een kwartier is ze klaar. Dan moet de kuil weer dicht. Zand erover en dan snel weer terug naar de zee. Na een paar weken doet ze het allemaal nog een keer, soms nog wel een 3e of 4e keer. Maar dan duurt het weer een jaar voordat ze terug komt. Onder het zand is het ongeveer 30° C, een prima temperatuurtje voor de eieren. Na een maand of twee komen de baby's eruit. Ze moeten eerst naar boven komen, dat doen ze om met zijn allen te trappelen, zodat het zand van het plafond valt. Dan stampen ze de grond weer aan. Zo wordt het dak steeds dunner en de vloer hoger. Ze komen nog niet naar boven, eerst wachten ze op de nacht. En dan....rennen voor je leven!! Moeilijk, want kleine hobbeltjes lijken voor deze kleintjes net bergen. En veel dieren lusten wel een zeeschildpadje. Het is natuurlijk belangrijk dat ze de goede kant op gaan: Naar de zee namelijk. Veel diertjes redden het niet, maar gelukkig een heel stel wel. Het duurt nog wel wat jaren (vaak meer dan 30 jaar) voordat ze zelf volwassen zijn en kinderen krijgen. Maar de zeeschildpad geniet eerst van zijn kinderleven.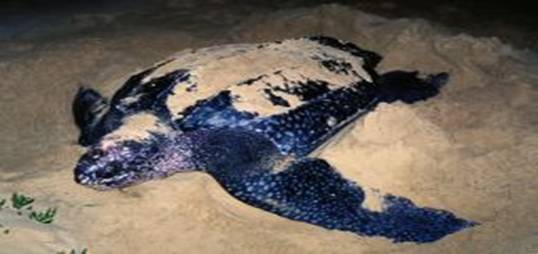 Deze Lederschildpad graaft een kuil om haar eieren kwijt te raken.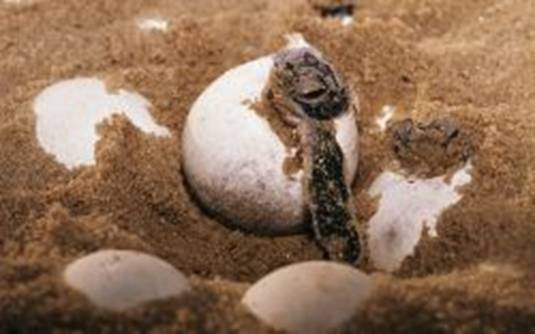 Na twee maanden komen de zeeschildpadjes uit hun ei.
5. Het Leefgebied
Het leefgebied van de zeeschildpad verschilt eigenlijk per soort. Hier de leefgebieden:
Groene Zeeschildpad: Leeft vooral in tropische gebieden rond de evenaar. Bijvoorbeeld in Australië, Hawaï en de Galaposeilanden.
Lederschildpad: Kan zijn lichaamstemperatuur hoger maken dan dat van het zeewater. Hij leeft vooral in de buurt van Canada, IJsland, Noorwegen, Nieuw-Zeeland en Chili.
Karetschildpad: Leeft in tropische wateren, meestal in de buurt van koraalriffen. Grote groepen leven in Mexico, Indonesië en Australië.
Dikkopschidpad: Leeft vooral in subtropische zeeën, vooral in de Atlantische Oceaan, de Stille Oceaan en de Indische Oceaan.
Platrugschildpad: leeft alleen in Australië. Eieren leggen ze alleen in Noordelijk Australië.
Kemps Zeeschildpad: Leeft alleen in de Golf van Mexico en in de oostkust van de V.S. Eieren leggen ze maar op één strand in Mexico.
Warana: Leeft over de hele wereld, vooral in de tropische wateren. Mexico, Costa Rica en India zijn de belangrijkste leefgebieden van de Warana.
Deze jonge zeeschildpadjes rennen naar de zee.
6. Voedsel
Het voedsel verschilt ook per soort. Ieder heeft zijn eigen lievelingskostje.
Groene Zeeschildpad: Is de enige vegetariër van de zeeschildpadden. Hij eet alleen planten, mals zeegras en algen. Daar heeft hij een handige gekartelde onderkaak voor.
Lederschildpad: Is dol op kwallen. Kwallen zijn niet zo voedzaam, dus eet hij soms meer dan zijn eigen gewicht per dag. Hij duikt tientallen meters diep om een plek te vinden waar veel kwallen leven.
Karetschildpad: Eet vooral sponzen, vastgegroeide zeedieren die door bijna geen ander dier te verteren zijn omdat ze zo giftig zijn. Maar zijn maag- en darmstelsel kan daar blijkbaar goed tegen.
Dikkopschildpad: Eet graag oesters en andere schelpdieren. Verder eet hij kwallen, zee-egels en krabben. Met zijn sterke kaken kraakt hij met gemak een oester open.
Platrugschildpad: Voedt zich vooral met zeekomkommers. Verder ook kwallen, inktvissen en zacht koraal.
Warana: Eet vooral kwallen, slakken, garnalen en krabben.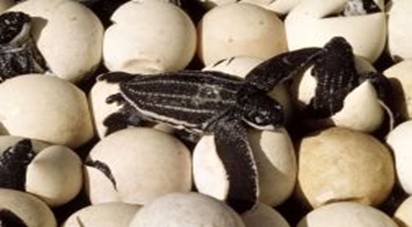 7. Bronnen
Ik heb mijn informatie gezocht in de TamTam, het jeugdblad van het WNF, op het internet bij google en dan gezocht op zeeschildpad. Ook wil ik mijn vader en moeder bedanken voor het helpen voor het bedenken voor dit onderwerp. En nog een keer mijn vader voor het helpen met de plaatjes.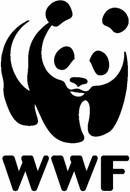 Maak jouw eigen website met JouwWeb