PADDESTOELEN

Waarom paddestoelen:
Omdat ik er een leuk boekje over had gekregen toen ik met een boswachter in het bos was geweest.
Geschiedenis van de paddestoel:
Er zijn heel veel paddestoelen. Sommige zijn eetbaar en andere giftig. Eigenlijk weten ze de laatste 300 jaar wat meer over paddestoelen. Daarvoor dachten ze dat paddestoelen bewoond werden door de duivel en dat alleen heksen wisten welke paddestoelen eetbaar zijn en welke giftig! Ook werd en word er bij de paddestoel vaak aan kabouters gedacht. Maar nu weten ze dus veel meer van paddestoelen en daar wil ik jullie graag wat over vertellen.
In Nederland komen meer dan 4000 soorten paddestoelen voor maar………
Wat zijn paddestoelen:
Paddenstoelen hebben geen bladeren, stengels of wortels. Planten die dat wel hebben, kunnen via hun blad zonlicht om zetten in voedsel. Maar paddestoelen kunnen dat niet. Die leven van bijvoorbeeld bladeren en afgestorven takken. Een paddestoel is een soort schimmel. Je hebt verschillende soorten schimmels denk bijvoorbeeld maar aan een stuk fruit, kaas of aardappel waar een witte korst op zit. Het gedeelte van een paddestoel dat je boven de grond ziet is het vruchtlichaam.Veel schimmels kennen geen vruchten of hebben zulke kleine vruchten dat je ze met het blote oog niet kunt zien. Bij een paddestoel is dat dus anders.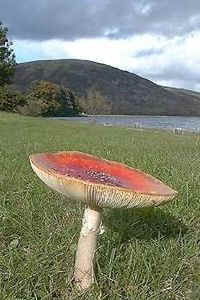 Bouw van een paddestoel:
De draden van een paddestoel heet zwamvlok.Dat kan je een beetje vergelijken met wortels van een plant. Ze zijn meters lang en heel dun. De vruchtlichaam bestaat uit een steel een hoed. Aan de onderzijde van de hoed zitten meestal plaatjes. Door deze plaatjes worden de sporen gemaakt. Sporen zijn kleine deeltjes die zeer licht zijn en dus makkelijk verspreid kunnen worden door bijvoorbeeld de wind. Hierdoor komen er weer meer paddestoelen. Bij een aantal soorten , zoals de berkzwam en de boleten, zijn deze plaatjes afwezig en bevinden zich aan de onderzijde buisjes waaruit de sporen vallen. De bovenkant van de hoed beschermt de sporen tegen regen zodat ze niet verkleven. Want als ze verkleven kunnen ze weer minder goed verspreid worden waardoor er weer minder paddestoelen komen! De steel zorgt ervoor dat de sporen niet meteen op de grond vallen. Een paddestoel bestaat voor 90 procent uit water.
Ik heb voor jullie allemaal een tekening van een paddestoel, kijk nu maar, voordat ik verder vertel, of jullie de namen nog weten?????
Waar leven paddestoelen van: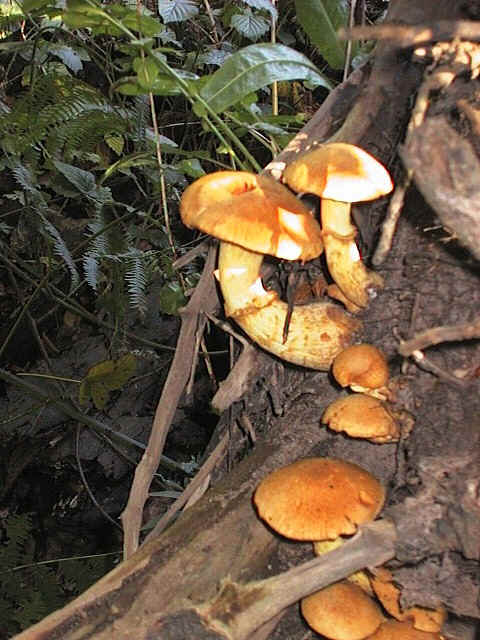 Paddenstoelen leven van afbraak van dood of levend materiaal. Dat is bijvoorbeeld een dood of levende boomstam..De meeste soorten paddestoelen verteren dode resten van planten en dieren. Als er geen paddestoelen zouden zijn, zou het aval zich ophopen en zouden er uiteindelijk te weinig voedingsstoffen overblijven. Dit is ook de reden waarom zoveel soorten juist in de herfst te vinden zijn. Want in de herfst vind je veel dood materiaal zoals afgestorven bladeren en planten! Maar sommige paddestoelen groeien op een andere paddestoel, of op een rups of op een gezonde boom! Zo'n boom kan dan zelfs, doordat die paddestoel door de sporen zich uitbreidt, doodgaan!
Heksenkring:
Sommige paddestoelen groeien in cirkels, deze cirkels worden heksenkringen genoemd. Vroeger dacht men dat deze ontstonden na rondedans van heksen. In andere streken van europa geloofde de mensen , dat op deze plaatsen een staart van een draak de grond had geraakt.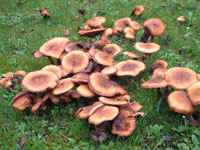 Dieren bij paddestoelen:
Vaak zitten er pikgaatjes van vogels in paddestoelen . Het lijkt alsof deze vogels van de hoed hebben gegeten, maar dat is onjuist. Deze vogels zijn op zoek geweest naar diertjes. In paddenstoelen leven namelijk veel insecten zoals, kevers, vliegen en muggen. Deze leven niet alleen op paddestoelen, maar vooral in paddenstoelen. Ook herten, egels en slakken eten paddestoelen.
Eetbaar of giftig: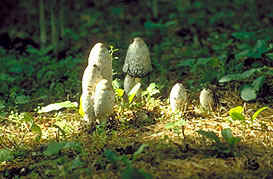 Sommige paddestoelen zijn eetbaar en de bekendste is natuurlijk de champignon, maar de meeste zijn smakeloos, of hebben een scherpe smaak of zijn vies. Sommige paddestoelen zijn heel erg giftig. Je kan er erg ziek van worden, overgeven en diarree maar sommige zijn zelfs zo giftig dat je er heel snel dood aan gaat! In Nederland bestaan ongeveer 30 soorten giftige, waarvan 7 dodelijke, paddestoelen! Het vreemde is dat sommige dieren van die giftige paddestoelen helemaal niet ziek worden terwijl een mens er aan dood kan gaan! Sommige paddestoelen worden ook gegeten als een soort drugs!Ze worden paddo's genoemd! Dat is heel gevaarlijk. Je gaat dan hallucineren! Hallucineren is dat je je heel anders gaat voelen, denken en doen! Het is ontzettend gevaarlijk omdat je van te voren nooit weet hoe je hier op reageert. Sommige mensen vinden het fijn maar het kan bijvoorbeeld ook gebeuren dat je denkt dat je kan vliegen en dan van een flat afspringt!
Soorten paddestoelen:
Er zijn heel veel soorten paddestoelen. In Nederland komen er meer dan 4000 soorten voor.Je moet maar eens het bos in gaan en er op letten Maar ik denk dat de bekendste: De vliegezwam, ( rood met witte stippen)het eekhoorntjesbrood en de gekweekte champignons zijn! Van die laatste heb ik ook een bakje van mee.
Vele paddestoelen hebben een hele moeilijke naam. Nou ga ik namen op noemen en dan moeten jullie raden of het een paddestoel is of niet! Denk je van wel........ga dan bij ja staan.
Denk je niet.......ga dan bij nee staan! Heb je het antwoord fout......ga dan zitten! Wie er over blijft krijgt een kleinigheidje!
Elfenbankje
Hanekam
Reuzenoog
Konijnenbrood
Spechtinktzwam
Chantalzwam
Kleine Sukkelsteel
Grote bloedsteel
Drakebloedzwam
Fluweelpootje
Bokkepootje
Oliebolzwam
Kabouterhuisje
Oorlepelzwam
Koningsmantel
Pimpelpaarse zwarte zwam
Grote vakantiezwam
Kleverige grote lange slanke zwam
Roestvlekkenzwam
Stinkparasoletje
Schaapje
Egelzwam
Varkensoortje
Judasoor
Paardehaarzwammetje
Papegaaizwammetje
Groene graszwam
Dwarsliggerzwam
Armbandzwam
Apekopje
Maak jouw eigen website met

JouwWeb