MIEREN
Voorwoord
Ik houd mijn werkstuk over mieren. Ik vond dit wel een grappig onderwerp en wist er niet zo heel veel over. Ook is er meer over te vertellen dan ik dacht.
Inhoud
Voorwoord blz. 1
Hoofdstuk 1 Weetjes over mieren blz. 1
Hoofdstuk 2 Het uiterlijk van de mier blz. 2
Hoofdstuk 3 Het mierennest blz. 3
Hoofdstuk 4 Buiten het nest blz. 4
Hoofdstuk 5 Vijanden van de mier blz. 5
Hoofdstuk 6 De mier en de bladluis blz. 6
Hoofdstuk 7 Bijzondere mieren blz. 7
Bronnen blz. 8
Nawoord blz. 8
Hoofdstuk 1 Weetjes over mieren
Bijna overal zijn mieren. Onder een tegel in de tuin, onder een boomstam, waar je maar kijkt. Mieren kun je vinden in tuinen, langs wegen, in weilanden, op akkers, in de duinen en bossen, in bergen en woestijnen, en soms zelfs in huizen. Kortom overal. Behalve in het water en in de poolgebieden. Mieren zijn er altijd, alleen in de winter zie je ze niet. Dan zitten ze onder de grond.
In Nederland leven wel vijftig soorten. Maar over de hele wereld zijn dat er wel heel wat meer. Namelijk zesduizend. En de meeste soorten daarvan leven in tropische gebieden.
Meestal zie je de soort bruine wegmieren. Deze zie je in de tuinen en op straat. Ze leven in een nest onder een graspol en onder een steen. In bossen leven de rode bosmieren. Deze mieren maken nesten boven de grond, van dennennaalden. Soms zijn de heuvels wel meer dan één meter hoog.
Mensen denken dat bosmieren schadelijk zijn, daarom worden hun nesten vaak vernielt. Maar in Duitsland zijn de mieren juist beschermt, omdat ze nuttig voor het bos zijn. Bosmieren ruimen namelijk ontzettend veel schadelijke insecten op.

Faraomieren zijn de kleinste mieren in Nederland. Deze komen alleen in huizen en flats voor, daar is het namelijk altijd warm. De mieren zijn tropisch, daarom willen ze op warme plekken zijn. Ze zijn ooit per toeval in Nederland gekomen. Omdat faraomieren klein zijn, zijn ze lastig. Ook zijn ze heel licht van kleur. Je kan ze bijna niet zien en ze kruipen door alle kiertjes om voedsel te zoeken. De faraomieren zin in sommige flats een plaag. En niemand vind het natuurlijk prettig om elk hapje te controleren op mieren.
In Leeuwarden had men, in een postkantoor, in 1892, heel erg last van faraomieren. Nergens kon je je broodtrommel veilig laten staan. Elke dag vingen ze tienduizend mieren. Zes weken lang. Maar het hielp helemaal niks. Uiteindelijk werd het postkantoor afgebroken, omdat de mensen helemaal gek werden van de faraomieren. Nu kun je hulp inroepen van de ongedierte bestrijding van de gemeente. Die spuiten in het hele huis gif.
Andere mieren komen niet in flats maar ook in gewone huizen. Dat vinden de meeste mensen natuurlijk erg lastig. De mieren kruipen in kasten met etenswaren en ze zitten in planten. Ook maken ze overal hoopjes zand, in de tuin. Veel mensen het niet netjes staan. En bovendien verzakken de tegels ook nog. Of je ligt net in het gras te zonnen, en de mieren kriebelen over je benen. Ze kunnen ook een gezellige picknick verpesten, door te steken en prikken. Kortom, mieren zijn niet populair bij mensen. Daarom zetten sommige mensen óf mierlokdoosjes op de vensterbank, óf ze strooien gif in de tuin. Ook zetten sommige mensen, als ze geen gif willen gebruiken, goudsbloemen of afrikaantjes in de tuin. Daar houden mieren niet zo van. Waar ze helemaal niet van houden in olie. Als je buiten wilt eten, kan je een ring van olie trekken om de poten van de tuintafel. Dan klimmen de mieren niet naar al dat eten op tafel, want dat kan niet!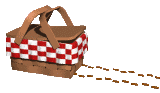 Hoofdstuk 2 Het uiterlijk van de mier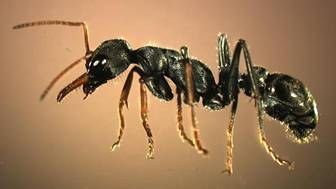 Een mier is een insect. Insecten herken je aan dat ze zes poten hebben, een mier heeft dus zes poten. Het lichaam heeft een kop, een borststuk en een achterlijf. Aan het borststuk zitten de poten vast. De maag zit, net zoals de krop, aan het achterlijf. Een krop is een soort zakje waarin de mieren voedsel voor andere mieren meenemen. Op de kop zitten de ogen. Het zijn er vijf: drie piepkleine ogen en twee wat grotere ogen. Met deze ogen kunnen ze niet zo heel goed zien. Gelukkig kunnen ze wel goed ruiken, dit doen mieren met twee grote voelsprieten. Deze zitten ook op de kop. Dan hebben we nog de twee kleine schepjes met tandjes eraan. Hiermee eten mieren. Met de tandjes kunnen ze dingen vastpakken en verslepen. Tussen de kaken zit nog iets, namelijk een tongetje. Daarmee likken ze nectar uit bloemen. Nectar is een zoete vloeistof. Bijen maken daarvan honing.
Mieren leven altijd in groepen. Een groep heet een volk of kolonie. Een mier kan niet alleen leven, daarom noemen we ze sociale insecten. In een kolonie zijn drie soorten mieren: vrouwtjes, mannetjes en werksters. Een werkster is een vrouwtje dat geen eieren kan leggen. Dat komt omdat ze onvruchtbaar zijn. De mieren die je ziet lopen, zijn bijna altijd werksters. De vrouwtjes zijn meestal groter dan werksters. Die worden koninginnen genoemd. Koninginnen en mannetjes hebben vleugels, werksters niet. Mannetjes hebben hun vleugels altijd, koninginnen gebruiken hun vleugels alleen als ze gaan paren, daarna verliezen ze de vleugels.
Hoofdstuk 3 Het mierennest

De vliegende koninginnen en mannetjes zie je meestal in de zomer. Aan het einde van een warme dag. Dan kruipen de koninginnen uit de grond. Uit één zo'n nest kunnen er honderden kruipen. Ze worden gevolgd door nog veel meer mannetjes. Ze vliegen heel hoog de lucht in om daar met elkaar te paren. Als ze uitvliegen om te gaan paren, noemen we dat zwermen. De koningin kiest de beste mier uit in de lucht. Degene die het hoogst vliegt, bevrucht de koningin. De vogels hebben al snel in de gaten dat er word gepaard. Vooral meeuwen komen er heen. Zo'n lekker hapje koninginnen is smullen. Als je op zo'n warme avond een hele hoop meeuwen ziet cirkelen in de lucht, weet je dat er veel vliegende mieren zijn. Toch komen er veel koninginnen, na de bruidsvlucht, weer veilig terug op de grond. Tijdens deze bruidsvlucht is ze bevrucht door een mannetje. Het eerste wat de koningin doet, als ze op de grond is gekomen, is haar vleugels van haar lijf wrijven. Die heeft ze nu niet meer nodig. Daarna gaat ze op zoek naar een holletje. Onder een steen of in de grond. Dan komt ze nooit meer boven de grond. Ze sluit de ingang van het holletje af. Ze zit dus opgesloten. Na een paar dagen legt ze een paar eieren. Uit die eieren komen na een tijdje larven. Dat zijn een soort witte rupsjes zonder poten. De koningin geeft de larven voedsel. Dat komt uit haar eigen maag. De larven groeien snel. Ze verpoppen zich na een paar dagen. Dan maken ze een soort velletje om zich heen. Dat velletje heet een cocon. In de cocon wordt de larve een pop. Na een tijdje kruipt er dan uit de cocon een mier. De cocons worden ook wel miereneieren genoemd. Maar eigenlijk zijn ze dat niet. Want miereneieren kun je haast niet met het blote oog zien. Eitjes, poppen en cocons heten ook wel jongbroed.
De mieren uit de cocons zullen voortaan voor de koningin zorgen. Als het voorjaar is maken deze mieren het holletje open die de koningin dicht heeft gemaakt. Ze gaan naar buiten om naar voedsel te zoeken. Voor de larven, de andere werksters en voor de koningin. Die heeft namelijk al die maanden geen hap gegeten. Als de kolonie begint te groeien, beginnen de werksters met gangen en kamers te graven. Elke zandkorrel word naar buiten gedragen. Andere werksters zorgen voor het jongbroed. De werksters likken ze schoon zodat bacteriën geen kans krijgen om het jongbroed ziek te maken. Dat zijn de drie taken van een werkster: voor de koningin zorgen, voor het jongbroed zorgen en gangen en kamers graven.
Meestal leeft de mierenkolonie onder de grond, daar is het nest. Mieren komen alleen boven de grond om voedsel te zoeken. Sommige soorten komen bijna nooit boven de grond. Een voorbeeld is de gele weidemier. Die zoeken voedsel onder de grond. Andere soorten maken het nest in een vermolmde boomstam of zelfs in een eikel. Mieren graven graag hun nest onder een steen. Overdag wordt de steen door de zon verwarmd. Na zonsondergang is de steen nog lang warm. Ook beschermt de steen tegen de regen. Het nest blijft dus droog. En het is een goede bescherming tegen vijanden.
Warmte en vocht zijn belangrijk voor het jongbroed. Het moet altijd in kamers liggen waar het vochtig en warm is. Daarvoor zorgen de werksters. Ze zijn dag en nacht bezig met het jongbroed te verhuizen. Als het te koud wordt, brengen de werksters het jongbroed naar kamers waar het warmer is. Dat is, overdag tenminste, vlak onder een steen waar de zon op schijnt. En als het daar dan weer te droog wordt, brengen de werksters het jongbroed weer naar vochtigere kamers. Zo past het jongbroed zich aan de temperatuur en vochtigheid van hun omgeving.
Bosmieren bouwen hun nest precies zo hoog als nodig is. Ze gebruiken geen steen om hun nest warm te houden. Als het nest op een plek ligt waar het warm is, dan bouwen ze hem niet zo hoog. Anders wordt het te warm. Als het nest in de schaduw staat, maken ze hem hoger. Dan kunnen ze toch voldoende zonlicht opvangen. Als je in het bos loopt, moet je er eens op letten.
In het nest zitten dus kamers. In één van de kamers zit de koningin. Daar wordt ze gevoerd door de werksters. Dag in, dag uit legt de koningin eitjes. Tot ze doodgaat. De koninginnen kunnen heel oud worden, soms 20 jaar! Er was eens een onderzoeker die een koningin in een kunstnest had. Die werd wel 29 jaar! Werksters worden maar een paar jaar. Mannetjes sterven na de bruidsvlucht.Na een tijdje, als de koningin is gestorven, sterft de kolonie ook uit. Er komen namelijk geen nieuwe werksters meer. Soms zijn er in één nest meer koninginnen. Bij sommige soorten rode bosmieren, bijvoorbeeld. De kolonie blijft dan bestaan als de koningin doodgaat. In de winter houden de mieren op met hun werk. Dan kruipen ze dieper de grond in. Ze wachten tot het weer warmer wordt. Rode bosmieren komen, in het vroege voorjaar, op zonnige dagen 'zonnen'. Ook de koninginnen komen dan naar buiten om zich op te warmen.
Hoofdstuk 4 Buiten het nest
Als je kijkt bij een mierennest, zie je mieren die druk bezig zijn. Sommige mieren slepen met dennennaalden. Andere slepen weer een dode sprinkhaan of een vlieg naar het nest. Weer andere zijn op weg naar een boom. Af en toe zie je een mierenstraat. Dat is een smal pad dat mieren als een soort snelweg gebruiken. Ze rennen over de mierenstraat naar het nest of er juist vandaan. Soms blijven twee mieren onderweg staan. Ze voelen met hun voelsprietjes aan elkaar.
Sommige mierensoorten hebben net als bijen een angel in hun achterlijf. Ze kunnen daarmee vergif in een vijand of prooi spuiten. Soms spuiten mieren dat gif in je huid. Bijvoorbeeld als je net lekker in het gras ligt. Dat doet eventjes heel erg zeer, maar je houdt er niks aan over. Knoopmieren heten deze stekende mieren. Dat is zijn naam omdat er tussen zijn achterlijf en zijn borststuk een soort knoop zit. Rode bosmieren hebben geen angel, ze kunnen wel goed spuiten. Ze spuiten mierenzuur. Dit is een scherpe bijtende stof. Je moet de volgende proef eens doen als je in het bos een bosmierennest ziet. Neem een doosje en tik daarmee een paar keer op het nest. Ruik daarna aan de onderkant. Wat je ruikt is een sterke dropgeur. Soms nies je ervan. Toen je op het nest klopte, spoten de mieren mierenzuur op het doosje, ze dachten dat het een vijand was. Er zijn ook mieren die op hun tegenstander een kleverige stof smeren. Ze smeren het op de voelsprieten van de tegenstander. Die ruikt niks meer. Vervolgens krijgen de vijanden geen lucht meer en stikken, omdat de mieren de stof ook op de gaatjes waar mieren door ademen hebben gespoten.
Elke mier heeft een kammetje aan zijn voorpoten. Hij gebruikt ze om zijn voelsprieten schoon te houden. Een mier staat vaak stil om zijn voelsprieten met zijn voorpoten schoon te maken. Zijn voelsprieten zijn heel belangrijk voor hem. Een mier heeft wel ogen, maar hij heeft meer aan zijn reuk. Goed ruiken is belangrijk voor hem. Mieren zitten meestal onder de grond. Ze hebben daar niets aan hun ogen. Ook als ze buiten zijn, ruiken ze om de weg niet kwijt te kunnen raken. Als hij loopt raakt hij steeds de grond even aan met zijn achterlijf. De mier laat dan een reukspoor achter. Als hij teruggaat naar het nest, volgt hij zijn eigen reukspoor terug.
Als je naar een zandpad gaat waar een mierenstraat is, moet je eens een laagje zand van de mierenstraat wegvegen. Opeens zijn de mieren letterlijk de weg kwijt. Het lijkt net alsof ze niet verder durven te gaan. Dat klopt, je hebt hun reukspoor weggeveegd. Ze maken na een tijdje weer een nieuw reukspoor. De mieren uit hetzelfde nest hebben dezelfde geur. Ze herkennen elkaar daaraan. Voor een mier geldt: wie anders ruikt dan ik, is mijn vijand. Als twee mieren uit verschillende nesten elkaar ontmoeten, gaan ze elkaar besnuffelen met hun voelsprieten. Als ze dan merken dat ze anders ruiken, beginnen ze vaak meteen te vechten. Ze sperren hun kaken open en pakken een poot van de tegenstander. Ze beginnen met zuur te spuiten of ze proberen hun angels in hun vijand te steken.
Hoofdstuk 5 Vijanden van de mier
Mieren hebben twee vijanden: mierenleeuwen en miereneters. Eigenlijk natuurlijk drie: mieren uit een ander nest.
Mierenleeuwen zijn insecten. De volwassen dieren lijken op libellen. Mierenleeuwen zijn larven van de mierenjuffer. Ze leven in droog zand. Daarin graven ze een trechtervormige valkuil. Daarmee vangen ze niet alleen mieren , maar ook spinnen. De mier valt in de trechter en word gegrepen door de grote kaken van de mierenleeuw. Dan word de mier leeggezogen. De mierenleeuw vindt je van vroeg in het voorjaar tot ver in het najaar. De volwassen dieren laten de mieren wel met rust.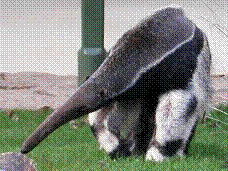 Miereneters hebben een kleverige tong. Die komt vijftig tot zestig cm uit z'n snuit. Ze leven van mieren, termieten en maden. Met zijn scherpe klauwen scheurt hij het nest van de mier uit elkaar. Hij steekt z'n snuit naar binnen en met zijn kleverige tong werkt hij de mieren naar binnen. Een miereneter kan ongeveer dertigduizend mieren per dag eten.
Hoofdstuk 6 De mier en de bladluis
Bladluizen zijn kleine, meestal groene, insecten die leven op planten. Ze zuigen sap uit de planten. Er zit suiker in plantensap. Bladluizen krijgen, als ze sap zuigen, eigenlijk te veel suiker binnen. Zoveel suiker hebben ze niet nodig. Wat ze teveel aan suiker hebben poepen ze uit. We noemen deze poep honingdauw. De mieren zijn er dol op. Zij kunnen de suiker die is uitgepoept goed gebruiken. Als een werkster suiker wil, gaat ze naar een bladluis toe. Ze trommelt op het achterlijf van de bladluis met haar voelsprietjes. De bladluis poept dan een druppel honingdauw uit. Die mier drinkt dat dan op en gaat naar een andere bladluis. Als de werkster genoeg honingdauw opgelikt heeft, is haar achterlijf heel wat dikker geworden. De honingdauw zit in de krop. De suiker is namelijk niet voor de werkster zelf. Ze gaat terug naar het nest. Onderweg en in het nest geeft ze aan de kleine mieren druppeltjes honingdauw. Die bedelen erom. De kleine mieren geven het dan weer aan de larven. In één zomer kan een kolonie van bruine wegmieren één liter honingdauw hebben gehaald. In een groot bosmierennest is dat tientallen liters per jaar.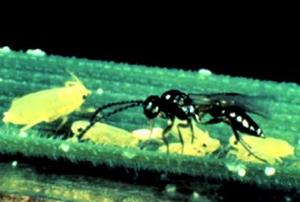 Sommige mieren blijven bij de bladluizen om ze te bewaken. Ze pakken de bladluizen op als het winter wordt. Ze brengen ze naar het nest. De bladluizen worden daar op stal gezet. Je kunt de mieren wel een beetje vergelijken met veeboeren die hun koeien melken en 's winters op stal zetten. Een paar mierensoorten leven alleen van de suiker van bladluizen. Een voorbeeld is de gele weidemier. Die leven onder de grond. Het melkvee bestaat uit wortelluizen. Dat zijn bladluizen die aan de wortels van het gras zuigen. De meeste mieren eten meer dan alleen maar bladluizenpoep. Rode bosmieren eten ook nog veel insecten. Ze maken sprinkhanen en rupsen dood en die brengen ze naar het nest. In de zomer worden er op één dag tweeduizend insecten naar hun nest gesleept!
Hoofdstuk 7 Bijzondere mieren
Er zijn twee bijzondere mieren: de diefmier en de amazonemier.
De diefmier is een klein miertje dat leeft in de buurt van rode bosmierennesten. De miertjes graven lange, smalle gangen naar het nest van de bosmieren. Af en toe lopen de diefmiertjes de gangen van de bosmieren in. Ze pikken voedsel, eieren en larven. Ze kruipen daarmee snel terug naar hun eigen gang. De bosmieren kunnen de diefmiertjes niet volgen omdat ze te groot zijn voor de smalle gangen van de miertjes.
De amazonemieren moeten de bosmieren ook hebben. De koningin van deze mieren dringt na de bruidsvlucht meestal een bosmierennest binnen. Ze bijt daar de koningin dood. Nu zijn de bosmieren slaven geworden. Voortaan verzorgen ze de eitjes van de vreemde koningin. De werksters van de amazonemier kunnen alleen vechten. Zelf kunnen ze geen voedsel opnemen. Ze worden gevoerd door de slaven. Omdat de koningin van de bosmieren dood is, komen er geen nieuwe bosmieren meer. Daarom houden de amazonemieren soms een rooftocht. Ze marcheren naar een bosmierennest en doden of verjagen de mieren die hier wonen. Ze nemen daarna alle poppen mee naar hun eigen nest. Zo zijn er toch steeds voldoende slaven om voor de amazonemieren te zorgen.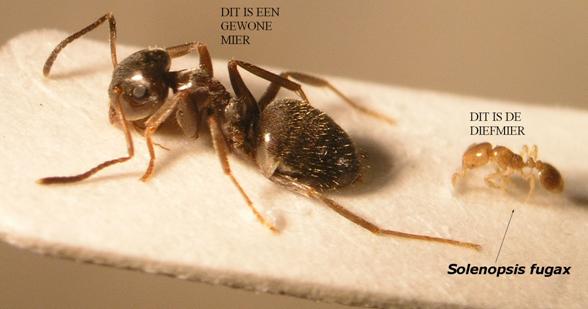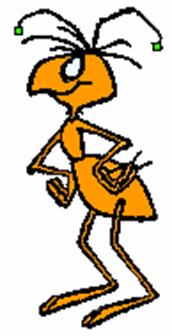 Informatie over de mieren:
Ik vond het erg leerzaam. Ik hoop u ook. Ik weet nu een stuk meer over mieren. Jammer dat ik geen plaatje van de mierenleeuw kon vinden.

Maak een Gratis Website met JouwWeb