Inhoud
Inleiding.

Inhoud.

Redenen waardoor zeehonden aanspoelen.

De binnenkomst van de zeehond.

24 uur in de zeehondencreche.

Overzicht soorten zeehonden
---
Inleiding
Ik heb dit onderwerp gekozen omdat ik zeehonden leuke dieren vind. En ik wilde weten wat er gebeurt als er een zeehond aanspoelt. Ik heb van dit werkstuk heel veel geleerd, ik weet nu ook dat de zeehonden meestal weer gezond worden en dat ze dan ook weer worden vrijgelaten. Er zijn heel veel verschillende soorten zeehonden, in de Waddenzee leven wel 19 verschillende soorten.
---
Oorzaken waardoor zeehonden aanspoelen.
Er zijn veel oorzaken waardoor een zeehond in moeilijkheden kan komen, zodat hij zonder hulp niet verder kan. Er zijn drie verschillende groepen: huilers, zieke zeehonden en gewonde zeehonden.
Huilers zijn zeehondenbaby's die hun moeder zijn kwijtgeraakt. Een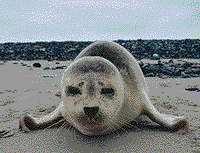 zeehondenmoeder past heel goed op haar jong, maar door storm of iets anders dat paniek veroorzaakt waardoor alle dieren in een andere richtingen wegvluchten, kunnen de moeder en haar jong elkaar kwijtraken. Huilers zijn niet ziek, maar kunnen zonder hulp niet overleven.
Zieke zeehonden: Door hun slechte weerstand tegen ziektes raken zeehonden door hun eigen kinderziektes zo verzwakt, dat ze niet zonder hulp verder kunnen. Wanneer deze zeehonden worden opgevangen, zijn ze meestal snel genezen.
Gewonde zeehonden: Scheepsschroeven, netten en ander weggegooid afval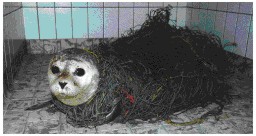 vormen een grote bedreiging voor zeehonden. Elk jaar wordt er een aantal opgevangen met diepe snijwonden, veroorzaakt door het vastzitten in netten, of zelfs met botbreuken en diepe verwondingen door scheepsschroeven.
Via de EHBZ-posten (Eerste hulp bij zeehonden) worden jaarlijks zo'n 100 zieke zeehonden en huilers bij de zeehondencrèche in Pieterburen binnengebracht.
De binnenkomst van de zeehond.
Zodra er een zeehond op de crêche in Pieterburen binnenkomt, wordt hij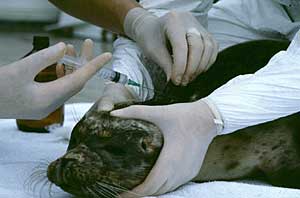 onderzocht door de dierenarts. Hij wordt gemeten en gewogen, er wordt bloed afgenomen en ook worden en "swabjes"genomen: uitstrijkjes uit de neus, bek en kont. Dit materiaal wordt gelijk onderzocht, gedeeltelijk in het eigen laboratorium en gedeeltelijk in een ander laboratorium. Als het nodig is, wordt er een echo of een röntgenfoto gemaakt. En bij verwondingen of ziektes (zoals oogproblemen) wordt een specialist ingeschakeld.
Gelukkig mag de crêche rekenen op de (gratis) medewerking van veel specialisten uit diverse ziekenhuizen in het noorden. Na het onderzoek krijgt de zeehond zijn eigen quarantaine-ruimte, waar hij drie weken verzorgd wordt, voordat hij in contact met andere zeehonden mag komen. Goede voeding, goede verzorging en vooral heel veel rust is heel belangrijk voor een goed herstel.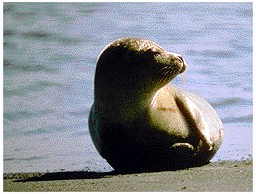 24 uur in de zeehondencreche
Al sinds 1971 staat men in de zeehondencrêche klaar voor de opvang van zeehonden. De dieren zijn ziek, verdwaald of te vroeg hun moeder kwijtgeraakt. Ze komen van de Nederlandse, Belgische of Duitse kust. En soms zelfs van de Zweedse, Schotse of Franse kust.
07.00 uur
Spitsuur in de keuken van de crêche. Daar wordt voedsel en medicijnen klaargemaakt. Dit gebeurt heel erg precies, alles moet heel schoon zijn. Net als in een ziekenhuis. Alle zeehonden krijgen vis met extra vitaminen erin. Elke morgen en avond wordt de temperatuur van de zeehonden gemeten.
08.30 uur
De grote schoonmaak begint. Zowel de binnen- als buitenbassins worden elke dag heel goed schoongemaakt. Zo krijgen vuil en ziekteverwekkers geen kans.
09.30 uur
Zeehonden worden onderzocht en er wordt een beetje bloed in een buisje verzameld. Dit bloed wordt later onderzocht om te kijken of er weg genoeg antistoffen in zitten tegen allerlei gevaarlijke ziekten. Ze worden ingeënt tegen gevaarlijke ziekten.
11.00 uur
Het wegen van de zeehonden gebeurt zeker twee, soms drie keer per week. Zo houden ze precies bij of ze snel genoeg groeien of dat ze meer te eten moeten hebben. Als ze gezond zijn en 40 kilo wegen mogen ze terug naar de zee. De mensen die de zeehonden vasthouden, dragen bij elke zeehond een schoon wit pak, zodat ze geen ziekten van de ene zeehond naar de andere overbrengen.
13.00 uur
De jonge zeehond mag voor het eerst naar buiten. Dat betekent dat ze al weer veel beter is. In het buitenbad heeft ze alle ruimte om weer goed te leren zwemmen.
14.00 uur
De zeehonden in het grote bassin liggen te rusten. Ze zijn bijna weer helemaal genezen. Nog even en ze mogen weer terug naar de Waddenzee. Ze krijgen drie keer per dag eten. De vis wordt zo het water in gegooid. Ze kunnen helemaal zelfstandig eten. Dagelijks eten ze ongeveer 5 kilo vis.
14.30 uur
Een zeehond op weg naar de vrijheid, de Waddenzee (hun huis). Ze is weer hersteld en sterk genoeg om in een niet zo'n schone zee te overleven. Er zijn nu al heel veel zeehonden uitgezet.
16.00 uur
Enkele keren per dag krijgen de zieke en zwakke zeehonden hun medicijnen, om wonden en infecties zo snel mogelijk te laten genezen. De huilers, de babyzeehonden, hebben vaak te weinig gegeten en zijn ook vaak uitgedroogd. Hiervoor krijgen ze water met zout en suikers.
19.00 uur
Er wordt opnieuw vis gemalen voor de avond en de volgende ochtend. Sommige zeehonden zijn te ziek en te zwak om zelf te eten. De kleine zeehonden kunnen ook nog geen vis eten. Voor deze zeehonden wordt een papje van gemalen vis met water gemaakt. De pap wordt via een trechter met een slang eraan gegeven. De slang wordt in de slokdarm gebracht en de pap wordt dan naar binnen gegoten. Dit gebeurt wel 5x per dag.
20.00 uur
Soms worden er röntgenfoto's van een zeehond gemaakt. Dit is om beter te kunnen zien wat er binnen in hun lichaam aan de hand is.
Overzicht soorten zeehonden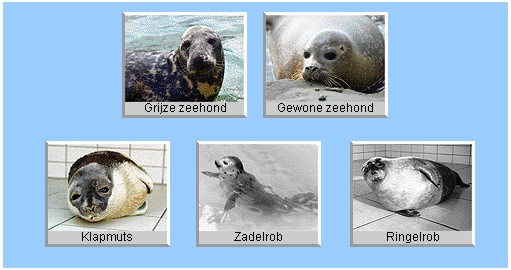 De vinpotige dieren worden in drie families verdeeld: De robachtige oorloze of echte zeehonden, de Oorrobachten of zeeleeuwen en de walrussen.
De robachtige worden weer verdeeld in 2 families een 10 soorten die vooral in het arctische en subarctisch gebied leven en 9 soorten die rond de zuidpool leven. De zeehonden zijn herkenbaar aan hun gestroomlijnde lichaam en ze hebben geen oorschelp. In het water gebruiken ze hun achtervinnen om zich voort te bewegen en hun zwemstijl lijkt een beetje op die van een grote vis. Op land verplaatsen ze zich heel moeilijk, ze kruipen vooruit door afwisselend hun borst en bekken heen en weer te bewegen.
Grijze zeehond
Grijze zeehonden zijn erg groot. Er is een duidelijk verschil tussen mannetjes en vrouwtjes. Mannetjes zijn steviger en hebben een grotere en bredere kop dan de vrouwtjes (ze zijn ongeveer 2,3 meter en wegen ongeveer 310 kilo). De snoet is in verhouding lang en breed en de neusgaten zijn gelijk aan elkaar en hebben een W-vorm. Ze zijn grijs, de pels van het wijfje heeft donkere vlekken. De mannetjes zijn donkerder en hebben lichte vlekken.
De pups worden met een witte wollige vacht geboren. Grijze zeehonden leven op ruige, uitstekende rotskusten, de geboorteperiode is in de herfst en het begin van de winter en geboorten vinden plaats op geïsoleerde stranden. De laatste jaren zijn er weer grijze zeehonden aan de Nederlandse kust te zien. Vermoedelijk zijn deze afkomstig van Britse kusten. Om commerciële en politieke redenen wordt er in andere landen nog steeds op grijze zeehonden gejaagd.
Gewone Zeehond
Het lichaam is dik en de kop is smal met een vlak voorhoofd, de neusgaten zijn smal en vertonen een V-vorm. De ogen zijn redelijk groot en staan vrij dicht bij elkaar. Het is heel moeilijk om de mannetjes en de vrouwtjes te onderscheiden ( ze zijn ongeveer 1,7 meter en wegen tussen de 60 en 110 kilo). De kleur van de rug is vaak licht- of donkergrijs of licht- of donkerbruin. De buik is altijd lichter dan de rest. De rug is het meest gespikkeld met vlekken. Bij de geboorte hebben de pups geen witte wollige vacht meer, die hebben ze alleen in de baarmoeder. De geboorteperiode ligt tussen het einde van de lente en het begin van de zomer. Sinds de prehistorie wordt op de gewone zeehonden gejaagd. Tegenwoordig is het verboden om ze te doden aan de Nederlandse, Duitse en Deense kust, maar in landen als Canada wordt nog steeds op ze gejaagd.
Dit was mijn werkstuk
Links naar zeehondensites:
Maak jouw eigen website met

JouwWeb